Hesston College and Mennonite Economic Development Associates (MEDA) will both benefit from the sales of the Hesston College Bel Canto Singers' new CD. The proceeds will be split evenly to provide student scholarships at Hesston and, through MEDA, assist small businesses in Latin America.
 During the 2012-13 year, the Bel Canto Singers program, "Songs of a Wayfarer," touched singers and audiences alike with its moving depiction of the immigrant experience of sojourn, isolation and solace, woven together with excerpts from the college's common read, "Enrique's Journey" (Random House Trade Paperbacks, 2007) by Sonia Nazario. The book is the true story of a young Honduran boy's solo journey to reunite with his mother in the U.S. The 21-voice ensemble was so moved by the program, they decided to let the powerful message live on and benefit others by recording a CD, the proceeds of which will benefit the Hesston College Inclusion Scholarship and MEDA's financial inclusion programs in Latin America.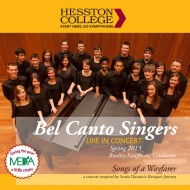 "The 'Songs of a Wayfarer' program provided a rewarding artistic response to the immigrant experience," said Bel Canto Director Bradley Kauffman. "Rehearsing and presenting the program as much as we did and dwelling on the emotional space, compelled us to add a more tangible response."
 In October 2012, Nazario, the Pulitzer Prize-winning journalist and author visited Hesston College to talk about her research for "Enrique's Journey. In her presentation, she mentioned microloans as a simple way for the average person to help offset the economic destitution that provokes some Latin American parents to flee for the United States, leaving their children behind as Enrique's mother did.
Kauffman watched the response to the program over the months and his desire to do something beyond creating connections to the idea of journeying grew.
"In presenting this program, I found a heightened level of emotional response from both students and audience members that I haven't seen before," Kauffman said. "Nazario's words are compelling, and integrating and allowing a piece of music to converge with that kind of narrative created an unusually strong response."
Inspired by Nazario's recommendation of microloans, research turned up MEDA's work – a timely and fitting opportunity for the group's partnership. Both Hesston College and MEDA are Anabaptist/Mennonite-based entities, so Kauffman was familiar with the group's work and in agreement with their ethos and practices.
 MEDA works with local partners in low-income countries to improve access to capital and markets for small and medium enterprises – often family owned –to grow their business and create jobs. MEDA says these smaller businesses are the backbone of a nation's gross domestic product, but they are often squeezed out of the market because of their struggle to receive loans from commercial banks, while microfinance institutions cater to very small companies.
The Hesston College Inclusion Scholarship was created through the college's ongoing work with inclusion and diversity. As a campus that is home to students from 27 states, 15 countries and more than 20 religious backgrounds, Hesston College has been taking intentional steps toward being a welcoming campus to all students. The scholarship's purpose is to improve diversity at Hesston College by mirroring the increasing racial and ethnic diversity within Mennonite Church USA. Students from underrepresented groups within the denomination will be priority recipients.
 The "Songs of a Wayfarer" can be purchased for $15 through the Hesston College Bookstore by calling 620-327-8105 or going to books.hesston.edu.