The Hesston College Theatre Department will present the stories of immigrant experiences through the decades and the world in the fall drama, JoAnne Akalaitis' "Green Card," directed by Laura Kraybill.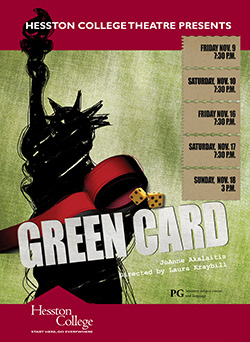 The show, which explores America as an immigrant and refugee society, will have five performances over two weeks – at 7:30 p.m. Nov. 9, 10, 16 and 17, and at 3 p.m. Nov 18. The drama will be in the Hesston College Northlawn Studio Theatre, and has a run time of about 90 minutes with a talk back session to follow each performance.
"Green Card" weaves back and forth between old world immigrant experiences of the early 20th century to more contemporary experiences of Cambodian refugees to Thailand in the 1970s and Central Americans to Los Angeles.
Each story tries to help the audience understand and connect with the thoughts and emotions that many immigrants feel in a new place.
"The play allows the audience to watch the Americanization of immigrants through our media-saturated culture, and how that permeates the immigrant experience," said Kraybill. "It tries to create a barrage of image and sound that would replicate the overwhelmed feeling someone from a non-media culture would experience."
The immigrant stories are told with brutal honesty, showing the way in which immigrants throughout the centuries have faced racism and other prejudices in their new home, including cruel jokes, harsh language and violent descriptions, which audience members should be aware of and prepared for.
"This is not a play that leaves you feeling good," said Kraybill. "Even as it shows the beauty and turmoil of immigrant stories before coming to America, it also shows the dirty underbelly of racism."
The audience will be left to feel uncomfortable at some points, but discomfort often addresses the issues that need to be talked about, Kraybill said.
Talk backs sessions will be led by the Mennonite Church Immigration Task Force following each performance.
Immigration is a common theme of study in several courses for the year, being spearheaded by the First-Year Experience seminar. Students enrolled in First-Year Experience are reading "Enrique's Journey" by Sonia Nazario, which is the true story of the dangers and hardships 17-year-old Enrique faced as he traveled alone from Honduras to the United States to find and reunite with his mother after 11 years.
"Immigration is a huge topic in our society," said Kraybill. "The arts – especially theatre – are an avenue to discuss issues of great moral importance and to reconsider our responses to those issues."
With a PG rating, parental caution is advised due to difficult themes and descriptions and harsh language.
Ticket prices are $9 for adults and $6 for students and senior citizens (65+). Tickets can be purchased in person at the Hesston College Bookstore, online at books.hesston.edu or by phone at 620-327-8105. Tickets will also be available at the door 30 minutes before each show and are subject to availability.
Student performers include sophomores Nathan Bray of Galva, Kan., Deni Brummer of Hutchinson, Kan., Bonita Garber of Bainbridge, Pa., Cameron Ponce of Elkhart, Ind., David Rudy of Manheim, Pa., freshmen Amber Davis of Crawfordsville, Iowa, JD Hershberger of Hesston, Kan., David Penner of Moundridge, Kan., Nathanael Ressler of Mount Vernon, Ill., Tien Tran of Hochiminh City, Vietnam, Issei Tsuji of Chiba-ken, Japan, and community high school student Emmali Lapp of Hesston, Kan.