Kansas nurses now can advance their careers at home, thanks to an innovative agreement between 18 Kansas two-year colleges, including Hesston College, and the University of Kansas School of Nursing. The agreement allows nurses with an associates degree in nursing from a participating college to easily transition to receive their bachelor of science in nursing through KU's online RN-to-BSN program.
"Health care today is increasingly demanding bachelor's-prepared nurses," said Karen Miller, RN, Ph.D., FAAN, dean of the KU School of Nursing. "We want to ensure that Kansas' nursing workforce can meet that demand, but that the state's nurses can earn an affordable bachelor's degree without having to leave their home community."
KU has offered an online RN-to-BSN degree since 1996, but the new agreement makes it easier to facilitate the transition. The new agreement guarantees admission to every student who graduates from an associate's degree nursing program with a 2.5 GPA or higher and passes the licensure exam to become an RN.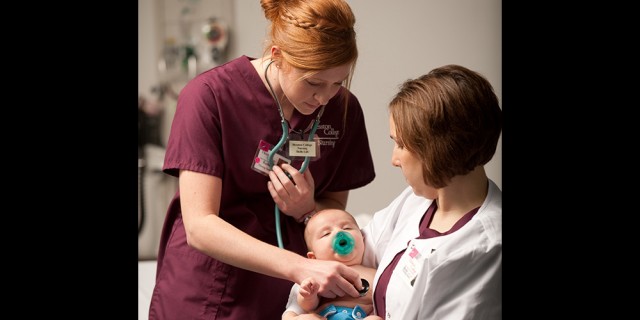 The Hesston nursing program has long-standing articulation agreements with other Mennonite colleges across the country, but the agreement with KU will be its first agreement with a public state university.
"We look forward to offering another avenue for students to work toward their BSN," said Bonnie Sowers, director of Hesston's nursing program. "We are working to expand articulation agreements with private and public universities to fit our students' needs and interests, and are very pleased with KU's program. It is seamless and extremely well-designed for our students."
"Under this new agreement, two-year college faculty will play a central role in the success of the program and the students," Miller said. The RN-to-BSN program will employ master's or doctorally prepared faculty at the two-year colleges to teach many of the courses.
Students choosing to enroll in KU's RN-to-BSN program will have to earn a total of 120 credit hours, including 60 hours in prerequisites and liberal arts curriculum. The last 30 hours of the program will be completed online through the KU School of Nursing.
"As the University of Kansas, it's our mission to serve all Kansans," said Chancellor Bernadette Gray-Little. "We're making it easier for Kansas nurses to continue their education at KU.  That will benefit their careers, as well as help them contribute to the health of their communities."