Dodge City Community College Instructor of Art and professional sculptor and jeweler Jennifer Nolan is the featured artist in the Hesston College Regier Friesen Gallery in the Friesen Center for Visual Arts through Oct. 26.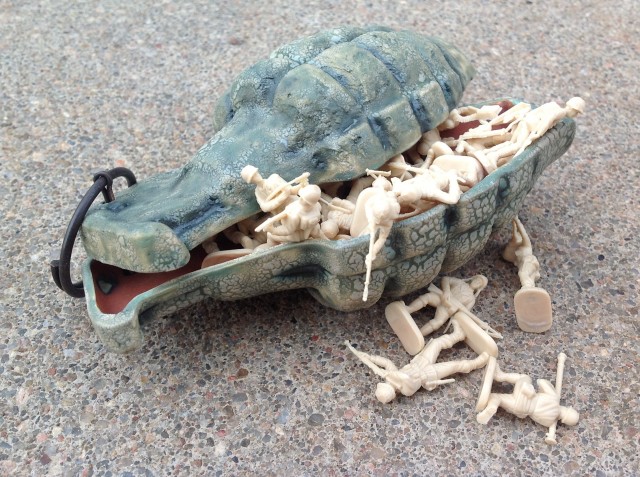 Nolan's art reflects images, moods and ideas from the 1940s and 50s to portray narratives of the atomic age. The hand-built sculptures and wall tiles mix the idea of the "American Dream" with the realities of war and destruction for a powerful critique of society's ideals.
Nolan earned her bachelor of fine arts degree with a Kansas teacher's certificate in K-12 art and her masters of fine arts degree in ceramics with a minor in jewelry design from Fort Hays State University (Hays, Kan.). Her work has been exhibited in several state, regional and national juried exhibitions and publications. She is an active board member of the Kansas Artist and Craftsman Association, the 2nd Ave Art Guild of Dodge City and an active member of the National Council on the Education of the Ceramic Arts as well as the International Society of Glass Beadmakers.
A closing reception and chance to meet the artist will be from 2 to 4 p.m. Oct. 26 in the gallery.
The gallery is open to the public from 9 a.m. to 4 p.m. Monday through Friday.