Hesston College art students are the featured artists in the Hesston College Friesen Center gallery through May 4. The student work features two and three dimensional art from both fall and spring semesters of the 2011-12 school year.
The student work was juried by Rachel Epp Buller, assistant professor of art at Bethel College (North Newton, Kan.). Erika Fujimoto's untitled fused glass piece was named Best in Show and will be purchased by Hesston College and added to the college's collection. Fujimoto is a sophomore from Toyama-ken, Japan.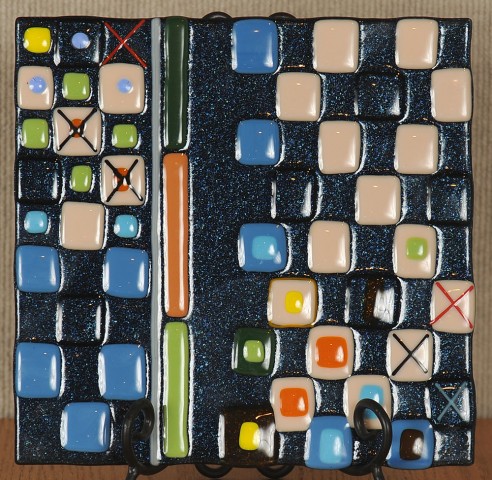 "I experienced a strong showing of diverse media," said Epp Buller. "Many of the pieces have a strong design presence. The functional ceramics were beautiful and demonstrated a nice range of various glazing techniques."
Honorable Mentions were given to sophomore Shuvo Das of Mohammadpur, Dhaka, Bangladesh, for his untitled wood carving; freshman Grant Fenton of Hesston, Kan., for his cone 10 reduction fired pitcher; sophomore Alyssa Horst of Orrville, Ohio, for her untitled acrylic painting; freshman Russell Klassen of Goshen, Ind., for his cone 10 reduction fired wheel thrown vessel; sophomore Alanah Rempel of Grand Lake, Colo., for her untitled fused glass piece; sophomore Delmer Reyes of Hugoton, Kan., for his pencil drawing "Mi Raza;" freshman Kayla Stevenson of Meade, Kan., for her fused glass piece "Flow of Traffic;" and freshman Natalie Young of Wichita, Kan., for her cone 10 reduction fired lidded slab box.
Art students study under Lois Misegadis, who teaches drawing, painting, graphic design, photography, design and color theory, and Hanna Eastin, who teaches ceramics.
The gallery is open to the public from 9 a.m. to 4 p.m. Monday through Friday.