Rachel Neufeld has hiked in the Andes Mountains, lived in a London flat, traveled around Europe, paddled hollowed-out canoes into remote villages in Papua New Guinea and enjoyed the beaches of Australia. She's tried ethnic foods and experienced cultures and histories all around the globe. Hearing about all of her adventures, one might wonder how she has time to work, but these adventures are her work.
As a traveling nurse and native of British Columbia, Canada, who got her start at Hesston College, Rachel fully embodies the college's tagline of "Start here, go everywhere."
"Hesston is the reason I can do what I do," said Rachel. "As a travel nurse, you're expected to know what you're doing. You just show up and they throw you into a unit. Nursing care is universal. It comes from having a good base and an understanding of nursing fundamentals, and that's what I received from Hesston."
In her 10-year travel nursing career, she has lived in Philadelphia, Denver, Colorado Springs, Seattle, San Diego, Wolfpoint, Mont., London, Peru, Papua New Guinea and Australia. While the locations offer plenty of opportunity for travel and new experiences, her first commitment is to provide care for those who need it and to learn about the nursing field in different cultural contexts.
"I go where the wind blows, and the wind keeps changing direction," said Rachel.
As a student at Hesston, Rachel kept a busy schedule, but found a balance between the intensity of the nursing program, playing on the volleyball team and participating in theatre productions.
"Volleyball and theatre were good outlets for the stress of nursing and all the heavy duty academics," said Rachel.
Bonnie Sowers, Hesston College director of nursing, remembers Rachel as a creative and respectful student with a passion for the people around her and achieving her goals.
"Rachel was delightful to have as a nursing student," said Sowers. "She was positive, engaging and a friend to all. Clinically, her patients and nursing staff also loved her."
After earning a two-year associate degree in nursing from Hesston in 2001, Rachel got her Bachelor of Science degree in nursing from the University of Alberta (Edmonton, Alberta, Canada). She was drawn to the idea of new adventures every few months and began considering travel nursing as a career. She could contract with a hospital for three months and then move along to the next place, with new sites, foods and cultures to satisfy her curiosity.
"I flit around from hospital to hospital doing shifts in random units wherever they need me," she said. "I've done high-drama nursing with trauma patients, worked in public health care and in hospice. The broader the experiences I can have, the better."
The high adrenaline atmosphere of trauma nursing was where Rachel thought she felt most at home, until she landed an ongoing job at a hospice in London. The opportunity to explore other cultures' approach to end-of-life care, to adopt some of those practices and incorporate them with the holistic approach to care she learned at Hesston is what helped Rachel fall in love with hospice work.
"Working in hospice changed the course of my career," said Rachel. "I appreciate Hesston's approach to holistic care. I have been shocked by the lack of empathy and sympathy I have heard from some nurses. Patients have told me they can tell a difference between nurses with holistic training and those who had a more medical approach."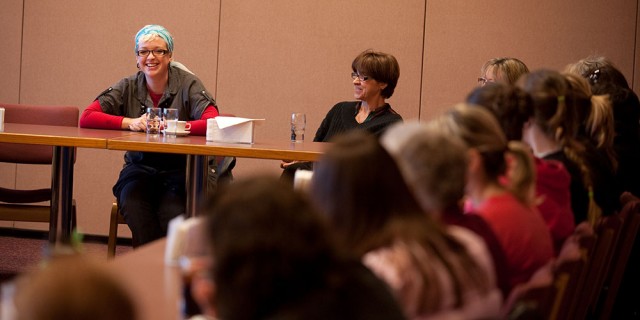 During her time in Australia, from December 2010 to November 2011, Rachel contracted with hospitals and a hospice in the northern coastal city of Darwin to maintain a balance of different skill sets.
"I made an effort to learn a culture's view of death and dying," she said. "I love to help people have the best process possible – to maintain dignity, reduce suffering and enjoy the time you have instead of fighting it."
Not all of Rachel's experiences have been in traditional hospitals or with traditional care. In 2008, she spent six months volunteering in Peru with Volunteer Abroad. Her first three months were spent in a remote, rural public health clinic in the Andes Mountains, followed by three months in a hospice in Lima providing care for patients with HIV and tuberculosis.
Part of her time in Australia was spent volunteering with Youth With a Mission. Based from an Australian medical ship, she was part of a team that set up temporary basic public health clinics in remote villages in Papua New Guinea.
"I never saw Rachel as someone who would want to be contained in a very prescriptive role, but she certainly understood protocol, structures and the need to be professional," said Sowers. "She was creative, but not someone who wanted to rock the boat just because she could."
Regardless of the setting or the culture, Rachel comes away with new ideas and a new perspective on what she thought she previously knew.
"Taking things from other cultures has shaped my view of medicine," she said. "I would like to see a balance in Western care between medications and natural products. I appreciate the advances in Western medicine, but sometimes you just need a little tea."
Rachel doesn't know what she might encounter next, but she is confident Hesston College gave her a solid foundation to be prepared for whatever might come her way.
"I have encountered nursing students and nurses at other schools, but Hesston is, hands down, the best nursing program I have seen," she said. "Clinicals start right away and correlate directly with classroom input. The standards are high, which forces hard work, but it's allowed me to do what I need to do. It was totally worth the work."