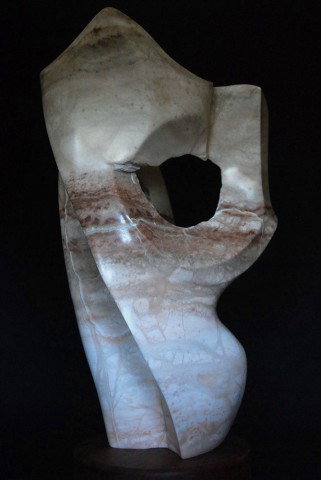 Hesston College will welcome back one of its own – Dave Foncannon – as the featured artist in the Friesen Center gallery Feb. 26 to April 13. Foncannon will display his alabaster sculptures.
A reception and chance for the public to meet the artist will be from 2 to 5 p.m. Feb. 26 in the gallery.
Many of Foncannon's sculptures – with trademark qualities such as unfinished surfaces and edges and highlighting attributes of the stone – reflect the idea of the journeys through life.
"I think of carving each piece as a journey," said Foncannon. "I carve intuitively, meaning I don't come to the piece with a shape or subject in mind. Unfinished parts are reminiscent of natural growing edges in our lives. Tool marks and broken edges are like the marks we carry through life."
Foncannon, of Limon, Colo., is a man of many talents. Aside from his art, he is also a songwriter and mandolin player for the bluegrass band Fireweed and recently ended an 18-year position as pastor of Pueblo (Colo.) Mennonite Church.
He received an associate of arts in Bible from Hesston College, double majored with a bachelor of arts in Bible and Religion and art from Bethel College (North Newton, Kan.) and earned a master of divinity degree from Associated Mennonite Biblical Seminary (Elkhart, Ind.).
The gallery is open to the public from 9 a.m. to 4 p.m. Monday through Friday.