Mike King's (1982 graduate) experience at Hesston College was a little different than most students'. He lived in Kauffman Court, went to classes in the basement of Mary Miller Library, ate his meals in the Hess Hall dining hall and visited friends in Green Gables. But for Mike, getting to his classes, the dining hall and to his friends' dorm rooms required planning and the help of friends.
In 1978, a motorcycle accident left Mike in a wheelchair. During the summer of 1979, he was traveling through Hesston with a high school music group and stopped by campus for a visit.
"After my visit, I thought Hesston seemed like a great place to be," said Mike. "I was the first Hesston student to be in a wheelchair. I talked with the administration about accessibility issues and they were very open to making changes to be accommodating for me."
The college made Kauffman Court mod 1A2, a ground floor mod, wheelchair accessible and during Mike's second semester, installed a stair glide to the dining hall in the basement of Hess Hall.
"Hesston's campus was fairly easy for me to get around," recalled Mike. "It helped that it was on the flat plains of Kansas, but if I wanted to go visit friends who didn't live on the ground floor, go to a basketball game in Hess Hall or any other place with stairs, I would have to arrange for someone to meet me to help with the stairs."
Looking back on his time at Hesston, Mike felt welcomed and was pleased with the campus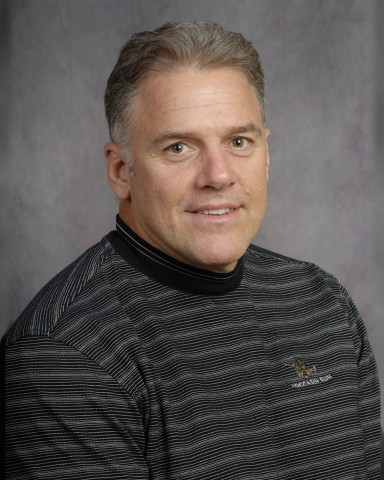 community's accommodations and willingness to learn what was necessary for disabled persons' accessibility. Yet he admits that not having to plan ahead to get to certain spots on campus would have been welcome.
As the college has made updates and improvements to buildings over the last 30 years, full accessibility measures were implemented. The dining hall moved from the basement of Hess Hall to the new Bontrager Student Center in 1987, while the gym facilities moved from Hess Hall to Yost Center in 1982, both ground level structures.
Kropf Center replaced the razed Hess Hall in 1990 with all student-accessible areas located on the ground floor. An elevator was installed in the three-story Alliman Administration Building during renovations in 1998. Smith Center, home to Mary Miller Library since 2003, has classrooms in the basement that are accessible by an elevator. The college's newest building, Friesen Center for the Visual Arts, is also a ground level structure.
Erb Hall, the three-floor residence hall which also has a recreational room and laundry facilities in the basement, remains inaccessible to those for whom stairs are an impossibility. The college plans to add an elevator to the dorms as the final step to recent renovations in Erb Hall central and west.
Mike supports the decision to make Erb accessible. As Community Relations Coordinator for Joni and Friends out of Mountville, Pa., Mike works with individuals, families and churches affected by disabilities, helping people to become more sensitive to those with disabilities.
"If Hesston College is open to all students – whether they live with a disability or not – putting in an elevator is a way to be welcoming," said Mike. "I got by with what I needed, but a lot has changed since the early 80's and people are more aware of what can be done to assist those with disabilities. I appreciate that Hesston is and was up front in saying campus isn't completely accessible, but we want to take the steps to make it so. To be a truly welcoming campus, it is important to be accessible before someone asks you to."
To contribute to the elevator project, visit the Development page.