Aviation has had a home at Hesston College for 41 years, and during the college's annual homecoming celebration Sept. 23 to 25, a panel of former employees told the story.
Former President Laban Peachey of Harrisonburg, Va., (1960 to 1980) recounted the story along with former program directors Dave Forrer (Independence, Mo.), Jacob Friesen (Sun City, Ariz.) and Wendell Sauder (Hesston, Kan.). Vice President of Academics Dr. Sandra Zerger served as moderator.
The aviation program was launched at Hesston in the fall of 1970. Peachey recalled that the college had just revised its general education curriculum and wanted to implement more career options.
But the plan for aviation seemed unprecedented. How could a small Christian college support an Aviation program?
"We had no planes and no facilities; just a lot of interest and enthusiastic students," said Peachey.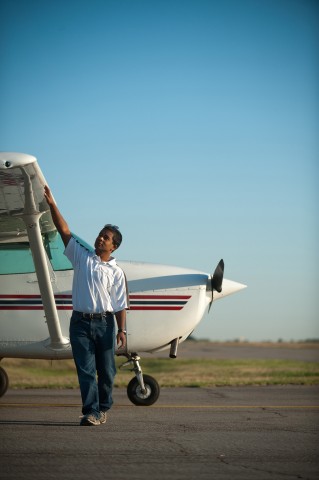 "Aviation at Hesston College worked early on because we had tremendous support from Laban and the Business Office," said Friesen. "Their trust and support of the program allowed it to grow."
During its first year of existence, the program leased an airplane from the Moundridge (Kan.) Flying Club, used the McPherson (Kan.) airport as its base and offered two courses – one ground training course and one flight training course.
With the rookie year complete, the program began to make strides toward what would become a highly successful program.
Forrer began as Director of Aviation in the fall of 1971 and began to look for ways to make the program take off. He recommended that the college invest in a plane, which it did in the fall of 1973 when it purchased a Cessna 150.
"We needed to establish credibility within the first few years," said Forrer.
The next two years brought significant developments, building respect and validity for the fledgling program. Friesen arrived at Hesston in the fall of 1973 as a second instructor. That year, the program also received FAA approval, the fleet of airplanes grew from zero to three and the program's base moved from McPherson to the Newton (Kan.) City-County Airport, where Friesen and Forrer set up office in a 20-foot trailer.
From that point forward, the program continued to grow in size and repute, though it was not without its low moments.
"There were times when the state of the economy and the aviation industry as a whole affected enrollment and interest in Hesston's program," said Peachey. "A lot of small aviation programs around the country folded, but we made it through."
"Some circumstances were out of our control," said Friesen. "We kept going during those times because of the students who were so determined to succeed."
Director of Aviation Dan Miller, a 1978 graduate of Hesston's program and Director since 1999, said fall 2011 enrollment boasts 45 students in the aviation program, including 12 studying Air Traffic Control, which was introduced at Hesston in 2009 and in 2010 became one of 36 colleges across the country and the only Kansas college to gain FAA approval.
A fleet of five airplanes and two simulators help students earn six licensures. Students start with their private pilot license and continue through commercial and certified flight instructor levels and earn an associate's degree. Vast improvements in office space have also been made, as the college now operates the program from a rented hangar at the Newton airport.
To date, more than 500 pilots can claim a Hesston College start. During Homecoming weekend, 11 of them returned to campus as presenters at an aviation symposium.
Enrollment numbers, directors and technology have changed the program over the last 41 years, but the one thing that remains constant is the commitment to teaching new aviators the basics of airmanship.
"There were students who struggled through the program but who are good airline pilots now," said Sauder. "They would likely have been dismissed from other programs, but our philosophy has always been to help the student who wants to fly."
"Success inspires success," said Peachey. "The success of students who have come through the program inspire it to continue for many years to come."