Mrs. Butler had fallen sick and was spending time in a nursing home the week that a group of college students from Hesston College showed up to do maintenance on her home in New Iberia, La. Many homes in the area suffered damage from Hurricane Rita in 2005 and again from Hurricane Ike in 2008, and extreme poverty had left many homes, including Mrs. Butler's, in disrepair.
The students were all studying in Hesston College's Disaster Management Program and were in New Iberia for an eight-week Summer Field Experience as part of the program. The week Mrs. Butler spent in the nursing home, the students installed new floors in her home.
"Mrs. Butler was so grateful when she came home and saw her new floors," said Mandy Kanagy from Timberville, Va. "She kept telling us how thankful she was for everything we were doing for her."
The students also gave Mrs. Butler a new roof, but once she returned home, they consciously took time away from work to talk with her and listen to her story.
"After we had finished all the work, our project manager told us Mrs. Butler appreciated the relationships with us more than her new floors and roof," said Kanagy. "She felt that we actually cared about her as a person and weren't just there to get a job done."
With recent increases in natural disasters, it is becoming evident that the world needs trained leaders for disaster response and recovery. The students in the Disaster Management Program are learning how to take the leadership reins for disaster relief.
The program has five sophomores who will receive their certificates of completion in less than two months. In the nearly two years they have spent in the program, the students have learned the logistics of cleanup and rebuilding after devastating events. And Mrs. Butler was right-the students cared about her. Working with disaster survivors enforces the fact that the rebuilding process requires more than a new foundation, floors, walls and a roof, but an emotional restoration as well.
During their time in the program, the students have interacted with people locally and across the country. They have heard first-hand accounts of the moment when the normalcy of life crumbled, collapsed or washed away.
"The classes are good, but the experiences working on recovery at disaster sites are what makes the program valuable and meaningful," said Leah Rittenhouse from Mt. Pleasant, Pa. "There is a balance between physical recovery and emotional recovery that you can't understand until you interact with people affected by a disaster."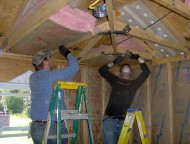 The Disaster Management Program was started at Hesston College in partnership with Mennonite Disaster Service (MDS) in 2005. The program equips students with leadership abilities in managing disaster response. Students learn how to work with people and relief agencies and how to prepare for future disasters, as well as many technical skills.
Aside from the regular class attendance and course work required of any program, students also put what they learn in the classroom to work onsite. Eight weeks of Summer Field Experience on an active disaster site is required after both years of the program.
"It's exciting for me to see the development of the students," said Russ Gaeddert, director of the Disaster Management Program. "We certainly talk a lot about the emotional care of disaster survivors in class, but that part really comes to life when they are on site. They get to know the homeowners very well and begin to understand what the survivors are going through."
Kanagy, Rittenhouse and their classmates, Darin Bontrager and John Schoenhals from Archbold, Ohio, David Hochstetler from Strang, Neb., and Adam Glick from Ephrata, Pa., spent their eight weeks of field experience in New Iberia, La., repairing homes for those who could not afford the work on their own. Most of the homeowners they served live in poverty and fell between the cracks when it came to restoring what was lost. The students constructed, repaired and took turns as crew leaders, but they also got to know the people for whom they were building homes.
"The summer field experience gave me a lot of good leadership opportunities, but I also learned that it's very important for people to talk and share their stories," said Schoenhals.
The students get opportunities to keep their technical and service skills sharp through local service projects and fall and spring break trips during the school year as well. This year alone, they have worked at local homes painting, hanging drywall and roofing. They cut down dead trees at Prairie View in Newton, worked on a Habitat for Humanity house in Lawrence and spent their spring break repairing a building damaged by a fire at Camp of the Hills in Marble Falls, Texas, which serves inner-city and at-risk youth.
Although plans following graduation on May 8 and the summer field experience are varied, the foundation for service the students have built through the program at Hesston is something they want to be a part of their futures.
The students all agree that the relationships formed with the homeowners, project leaders and other staff members are what stick out above memories of nailing down shingles, staining trim and running electrical wires. They share memories of homeowners gushing with surprise and gratitude that strangers would want to help rebuild their homes. They mourn with survivors as they see how livelihoods and ways of life have been destroyed. They are inspired by the determination and "never-say-die" attitudes of people who have lost virtually all their possessions.
"Community is formed in a meaningful way when you have people working toward a common end and serving others," said Kanagy.
Located 30 miles north of Wichita, Hesston College is the two-year liberal arts college of Mennonite Church USA.