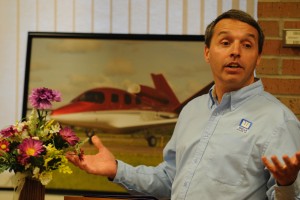 Two Hesston College Aviation alumni were the featured speakers for the department's annual Aviation as Mission event March 25. The evening was an opportunity for Hesston College aviation students, alumni, prospective students and faculty and staff to connect.
Mark Miller and Tyson Teeter, both of Hesston, shared their stories and insights on what it takes to be a successful pilot and how their Christian faith impacts their career.
Miller graduated from Hesston College in 1986. After completing his flight training, he worked at the college as a flight instructor for seven years before attending seminary at Eastern Mennonite Seminary (Harrisonburg, Va.). Miller served as pastor of Lockport Mennonite Church in Stryker, Ohio, for seven years and at Whitestone Mennonite Church in Hesston for five years. In 2009 he returned to work as a flight instructor at Wells Aircraft in Hutchinson, Kan.
Miller spoke about the importance of service to the people he works with and teaches on a daily basis. He views his job as a way to serve the person wanting to learn to fly in whatever way possible, not just a way to build flight hours and satisfy personal and professional goals.
"One of the views in aviation that distorts our view as Christians is a sense of entitlement," said Miller. "When you begin thinking you are entitled to the best of everything and that your success is all that matters, serving becomes second or third or fourth."
Instead, Miller encouraged those gathered to consider their careers in aviation as an entitlement to serve.
"When you serve people, you realize they want to treat you well," said Miller. "When people see you treat them well, there is reciprocation."
Teeter's message complemented Miller's statement that reciprocation comes from service as he spoke about the power of relationships in the aviation field.
Teeter shared his personal story of the struggles that came with being laid off from Cessna Aircraft Company (Wichita, Kan.) during the company's downsizing in 2009. Teeter said the relationships he had built and maintained throughout the industry over the years helped him find contract work during his 15 months of unemployment and eventually a new job with JACAM Chemical Company in Sterling, Kan., which produces oil field treatment chemicals and does business worldwide.
"Relationships intertwine," said Teeter. "Look very closely at the relationships you have in life, and realize that they are the tools God uses to build his kingdom."
After graduating from Hesston, Teeter worked for Eaglemed Air Ambulance in Wichita and Executive AirShare. From 2006 to 2009 he worked as a flight operations and demonstrations pilot with Cessna. He has been a flight operations pilot at JACAM since June 2010.
Located 30 miles north of Wichita, Hesston College is the two-year liberal arts college of Mennonite Church USA.