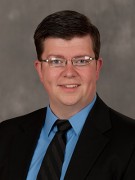 Development Officer
Email:
mitchs@hesston.edu
Office Location:
Alliman Administration Center
Affiliated Departments or Programs
Educational Background
A.A., Hesston College, 2009
B.A., Eastern Mennonite University (Harrisonburg, Va.), 2011
In Addition …
I came to Hesston College as a student in the fall of 2007. I fell in love with the campus and the community that I found. Elements of Hesston were similar to the small town of Middlebury, Ind., where I had grown up and I was able to make connections with classmates quickly. I made it a goal during my first week as a student at Hesston to come back and work at the institution one day. During my time at Hesston I was an active participant in the theater program, a member of Bel Canto Singers, a Resident Assistant and a Bill of the famed Bills and Normas. After graduating from Hesston College I earned my B.A. at Eastern Mennonite University in Harrisonburg, Virginia. I then accepted a job teaching in Rockingham County Public Schools. I enjoyed my work in the public schools, but still wanted to return to Kansas and work at Hesston College.
In 2012 I was hired as resident director at Hesston College. I loved having a role that allowed me to learn to know individuals from around the country and around the world. The opportunity to work as resident director was a blessing that I look back on with fond memories. I am happy to now be serving Hesston College in the role of development officer. Hesston College is still an institution that I care deeply about and I am thankful for the blessing of being part of the staff.