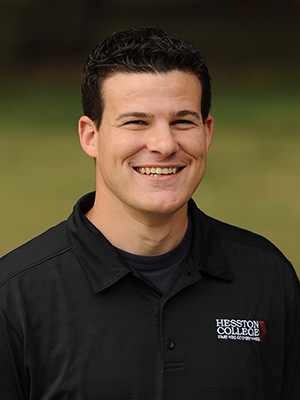 Admissions Counselor, Men's Soccer Coach
Email
michaela@hesston.edu
Office
Alliman Administration Center
Affiliated Departments or Programs
Education
A.A., Hesston College, 2005
B.A., Southwestern College (Winfield, Kan.), 2011

Region
central and southeast Kansas

In Addition …
My background
I grew up in Huntingdon, Pa., and graduated from Belleville Mennonite School. Although I attended a Mennonite school, I didn't grow up Mennonite.
Why I chose Hesston
I chose Hesston because they have a great youth ministry degree. The professors all have real life youth ministry experience. Plus the small class sizes and personal professors and coaches made Hesston a great place to study.
My favorite HC memory
Relationships with teammates, and the great feeling of accomplishment that we shared after defeating a long time rival.
After Hesston
I attended Southwestern College in Winfield, Kan., and graduated with a bachelor's in youth ministry.
How Hesston is the same as when I attended
Hesston College is warm, Welcoming, relational and supportive. Those qualities have remained true over time.
How Hesston is better
The college continually pursues ways to provide more for the students--upgrades to buildings, technology, and programs. Hesston is always striving to provide more and do it better.
More about me
I am married and have three wonderful children, and I love the welcome that I receive every time I walk in my door. I'm very passionate about soccer and youth ministry, which were both empowered here at Hesston. I enjoy long walks on the beach, and sunsets...actually, I enjoy the great outdoors, and spending time with my family.
One thing students Need to Know about HC
We are a friendly and supportive place to begin your college experience. We provide that strong foundation that you need to be prepared for your next step in life.
My advice to prospective students about the admissions process and how to chose a college
Visit! Come check us out first hand. Chose a college based on the best atmosphere that will help you learn and grow. Hesston provides that place.
Related Links