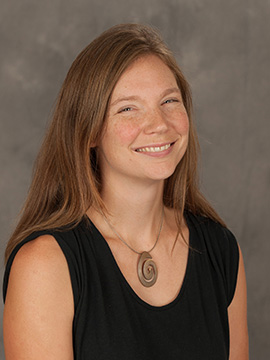 Campus Counselor
Email
julie.lehman@hesston.edu
Affiliated Departments or Programs
Education
A.A., Hesston College
B.A., Eastern Mennonite University, Harrisonburg, Va.
M.S.W., University of Kansas, Lawrence
In Addition …
Returning to Hesston College as Campus Counselor marks my third
experience here — first as a student from 1996 to 1998, then as the
women's resident director from 2002 to 2005. Originally from the
Shenandoah Valley in Virginia, I have come to call this community
"home," and am excited for the opportunity to be part of the campus
community once again. I feel privileged to be in a position that brings
my path alongside students and allows us to work together toward health
and wholeness. Being in roles that have focused on relationships and
individuals within a variety of circumstances, I have learned to
appreciate and value the unique strengths and resilience within each
person.

In between my experiences at Hesston College, I
completed my bachelor's degree at Eastern Mennonite University
(Harrisonburg, Va.), then moved to Oregon where I volunteered for two
years at Western Mennonite School as a resident director and volleyball
coach. I earned my Master of Social Work degree from the University of
Kansas, and worked for five years at Prairie View, a local mental
health center just a few miles from Hesston. There I had the
opportunity to work with adolescents and families in a variety of
capacities, as well as expand my knowledge and interest in
adventure-based and experiential learning, which heavily influences the
work I do.


When I'm not in a work context, I enjoy various creative
pursuits, spending time outside, and traveling with my husband Todd.
With all our family 800-1,100 miles away, and friends spread out from
coast to coast, it's probably a good thing that we both really like
road trips! We do stay home some too, and during those times we love
hosting people in our home, playing games, and tending our backyard
chickens Susie, Olive and Lola.
Related Links