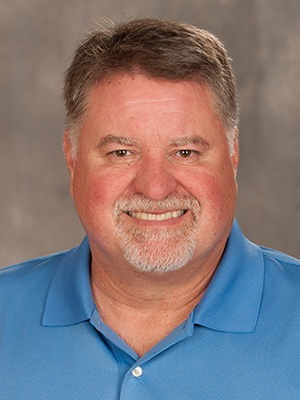 Women's Basketball Coach, Social Sciences faculty
Office
Erb Hall Student Life Suite
Affiliated Departments or Programs
Education
A.A., Hesston College, 1979
B.A., Tabor College, Hillsboro, Kan., 1981
M.A., Wichita State University, Wichita, Kan., 1993

In Addition …
Besides being a teacher and coach, Dan has extensive counseling experience since he graduated with his master's in counseling from Wichita State University in 1993. He worked within the public school system as a school counselor in Minneola and Haysville Kan., for 11 years. He also worked as a personal therapist in the Ashbury Methodist Counseling Center for three years. Specific trainings include: drug and alcohol abuse prevention, led anger management groups, developed peer mediation programs, created psychological informational programs for church and civic groups, diversity workshops and grief intervention training.
How did you choose to study psychology?
I was interested and challenged in the study of psychology through my class here at Hesston College with Dr. Phil Osborne. His Developmental Psychology class opened my eyes to the endless possibilities that exploring human behavior could lead in helping our fellow man.
What are your favorite courses to teach? What do you like about them?
I find something exciting in each of the classes I teach. I enjoy discussing the individual motivations that guide our lives in General Psychology. Developmental Psychology allows me to get to know my students in a unique way as they share their life stories. Conflict Resolution is very satisfying as students learn to deal with conflict in positive, constructive ways in a variety of settings.
How does your background and educational experience shape your teaching at Hesston?
Coming from an education and counseling background in the public sector has influenced the direction of my approach. Psychological theories and approaches should be understood in the context of relating to each other, not just as a collection of data or facts.
What do you most want to know about prospective students?
I love to meet new students who want to learn more about themselves and others. I believe that students who have a heart and compassion for their fellow man can be "world changers." We all can help "light up our corner of the world."
How do you connect with students in the program?
Students will quite often visit with me on an informal basis before and after class. I very much enjoy having my students drop by my office and share their stories.
What do high school students need to know about Hesston's learning environment?
It is a caring and warm community that supports and encourages students. Faculty are approachable and available to help those who seek assistance.
Where do students go and what do they do after graduation?
Many of our graduates in psychology or related fields are making positive impact throughout the world. Some of the vocations include: psychiatric nurses and hospital staff, child care providers, family and social service workers, pluse counselors and teachers. Most go on for more education and training but all look for ways to serve.
Related Links