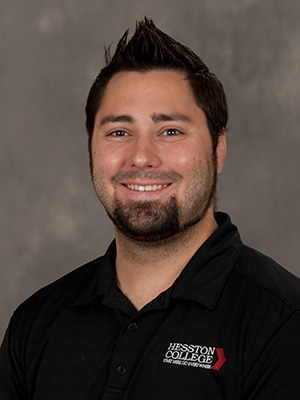 Admissions Counselor
Email
carsons@hesston.edu
Office
Alliman Administration Center
Affiliated Departments or Programs
Education
A.A., Hesston College, 2009
B.A., Tabor College (Hillsboro, Kan.), 2011

In Addition …
My background
I grew up in Beaver Crossing, Neb., a small farming town with a population of about 400. A town where everyone knew everybody and there wasn't much to do unless you were a farmer, a person who liked to hunt or fish, or were willing to drive at least 30 minutes away to the nearest city. I attended a public high school where the student population was the size of my hometown - an average sized school for rural Nebraska.

Why I chose Hesston
I grew up Mennonite and my home church is highly involved with Hesston College. I originally wasn't planning on coming to Hesston, but the push for a visit by my admissions counselor, my family and people from my church was what brought me here. Once I visited, I fell in love. I loved the small town feel (its what I was used to) and the community feel that you get while on campus was amazing! Everyone was very welcoming and I had this feeling and thought to myself "this is where I need to be." I knew right then that I had to come. I wasn't strong with my faith at the time of my visit so being in a community and attending a school that are very Christ-centered helped me regain a relationship with Christ that I was longing for.

My favorite Hesston College memory?
There are SO many I don't know which to choose. One memory that I always enjoy to reminisce about is hanging out with the guys in my mod for a few hours every night. We had other friends on campus that we did stuff with, but we always set aside a few hours every night to sit in the RA's room, since he had the biggest TV, and watch Family Guy. Those were times that we were able to get to know each other better and now they are some of my closest friends.

After Hesston
I attended Tabor College in Hillsboro, Kan. It's only a 30 minute drive north. From Tabor, I received my bachelor of arts Degree in Biblical and Religious Studies with emphasis in Theatre and Communications.

How Hesston is the same as when I attended
As for the "look" of campus, everything is pretty much the same. The Friesen Fine Arts Center was completed and in use my sophomore year. Also, many of the professors and other faculty that were here while I was a student are still here.

How Hesston is better than when I attended
Since I graduated in '09, Hesston College has undergone some renovations and added some new faces to campus. It's these additions that have made it better, in my mind, since I was a student. It's always good to be back and it's even better to be working at the place where I had such a great experience. I want everyone who is looking at colleges to come to Hesston so they can have one too!

More
I LOVE college football. GO HUSKERS! I love fishing and spending time outdoors. I like to meet new people and to have good fellowship time with them. One thing that I wish prospective students knew about Hesston is for them to understand how much they can accomplish in two years! Many times, I hear prospectives say that they won't get much out of a two-year college. Come visit Hesston! You'd be surprised at what two years attending Hesston can do! And...despite what might be said about Bib Lit and the "scary" Heilsgeschichte...its an awesome class and an even better experience.


Related Links