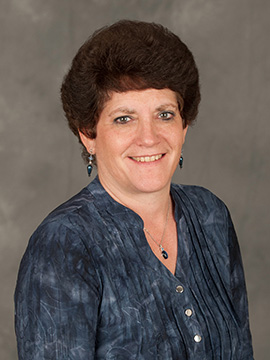 Administrative Assistant
Email
brenda.wenger@hesston.edu
Office
Erb Hall Student Life Suite
Affiliated Departments or Programs
Education
In Addition …
I began working here at Hesston after receiving my associate of arts
degree from Hesston College in 1979. I previously worked in what was
known as the Student Services department (Admissions and Student Life
combined). Since that time I have been a part of the Student Life
department working as an administrative assistant.

My
responsibilities as an administrative assistant within the department
include providing assistance to the VP of Student Life/Dean of
Students, as well as offering support when needed to the Campus
Counselors, Campus Pastor, International Student Services and Residence
Life staff. Various other responsibilities include: coordinating and
assisting with departmental events related to student orientation,
Opening Weekend activities and Thanksgiving activities; providing
assistance with departmental budget; maintaining student health
records; providing support to Parents Council, Mod Parents and the
parent program; supervising student workers; assisting with student housing; updating departmental
materials through the summer, and participating in departmental
planning and activities.


My husband, Dwayne, and I live in Hesston and have three
children: twin sons, both graduates of Hesston College who, after
furthering their education, now live in Harrisonburg, Va., and a daughter who is a student here at Hesston College. I enjoy reading, and, as a family, we enjoy traveling, camping
and going to bluegrass festivals. Through the years Hesston College
remains to be a very positive place to work and experience growth
within a nurturing community.
Related Links