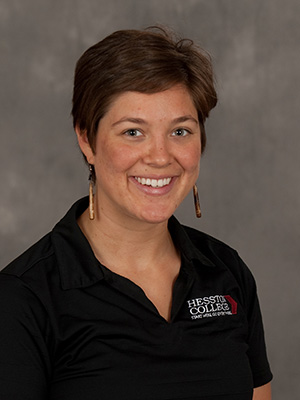 Admissions Counselor
Email
annalim@hesston.edu
Office
Alliman Administration Center 214
Affiliated Departments or Programs
Region
Illinois, Indiana, Michigan, Ohio

In Addition …
My background
The first five years of my life were spent at Camp Luz in Kidron, Ohio. I enjoyed early morning bird watching led by my dad, and eating pancake breakfasts with the campers. My educational background has been diverse; from homeschooling, to Central Christian School, to my college cross cultural semester in Nicaragua.
Why I chose Hesston
I chose Hesston College because I was unsure about what I wanted to pursue vocationally. I knew that Hesston College delivers their general education courses with intentionality while simultaneously empowering students to be leaders throughout their first two fundamental years of college. Even though I was 959 miles from home I knew I would be cared for as an individual and have a strong support network to guide me through the foundation of college.
My favorite Hesston College memory
Since Hesston College is not located in a huge town it's really the relationships that make Hesston so unique. The campus is simultaneously the place you learn, grown in faith, and interact with friends. Since there are very few distractions Hesston is intentional about forming community and activities on campus.
One evening my friend and I decided to set up a scavenger hunt across the entire campus for a number of our other friends. After various clues through practically every building on campus our friends finally found my other friend and I in the fellowship hall of Hesston Mennonite Church with popcorn and soda. College was fun because there was always someone close by who was willing to be just as goofy as me.
After Hesston
I transferred to Goshen (Ind.) College where I majored in Bible and Religion and minored in International Studies. After I graduated I participated in Mennonite Central Committee's one year service term called Serving and Learning Together. I worked for the Church of Uganda in Kotido, Uganda, as the church educator and chaplain for the North Karamoja Diocese.
How Hesston is the same as when I attended
The community I felt so strongly when I was here before is exactly the same. Relationships between professors and students are still candid; professors are very approachable and make themselves available for students in and outside of class.
Also, relationships in the dorms are still energetic and welcoming. Each mod throughout our dorm is a cross section of the demographic on campus; in-state and out-of-state students, international students, athletes, musicians are all together. At any time throughout the evening you can walk through our dorms and find study groups, or groups of friends hanging out together.
How Hesston is better than when I attended
In the 2012 CCESE scores Hesston College was ranked in the top percentile of two-year colleges in the area of student engagement and faculty staff interactions. When I was a student here Marion Bontrager, my faculty advisor was my advocate and mentor. Now Hesston College is even more intentional about these relationships. Faculty meet with first-year students once a week for the first eight weeks of classes. Not only does this provide strong professional career advising, but it gives students an immediate link into the campus.
One thing students need to know about Hesston College
No other Mennonite College, and very few private colleges in Kansas have a pool and hot tub like Hesston College has for students in their recreation facility.
My advice to prospective students about the admissions process and how to choose a college
Regardless of what college you choose, you should have at least three reasons to back up your decision. Finding a college that fits you is critical to your success and energy toward finishing your degree. I encourage you to visit all the colleges you are interested in and come up with at least three reasons why that college is a good fit for you.
Related Links