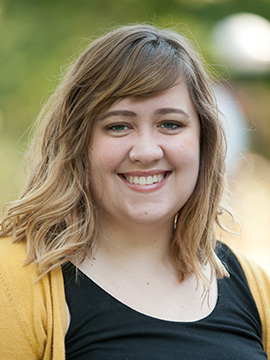 Admissions Counselor
Email
allie.shoup@hesston.edu
Office
Alliman Administration Center
Affiliated Departments or Programs
Education
B.A., Bethel College (North Newton, Kan.)
In Addition …
What is your background?
I was born and raised in Wichita, Kansas, and graduated from Maize High School, a suburban school on the western edge of Wichita. I was also blessed by the chance to live in Papua, New Guinea, during part of my childhood while my parents taught at an international school. During my growing up years I kept busy with music (marching band!), swimming, theatre and involvement with my church through missions projects and music leading. After graduating from high school I continued my education at Wichita State University where I met my husband, Will, during my second year and was married shortly after. I finished up my bachelor's degree in Bible and religion at Bethel College (another member of the Mennonite Higher Ed community) and now live in Newton (just seven miles off campus) where I share a a small and cozy house with Will, friends that stop by for tea, and our house plants. My days are happily filled with meeting new people, writing notes and cards on flowery-designed paper, playing board games, listening to folk music and going on long walks by the river that runs through Newton.
Why did you choose to work at Hesston College?
I fell in love with Mennonite higher education while finishing up my own bachelor's and knew that the field (though limited) would be a wonderful fit for my degree in Bible and religion. When the opportunity presented itself to continue being a part of Mennonite higher education through admissions at Hesston, it felt like the perfect fit from the get-go. When asked why I represent Hesston when I did not attend here, the answer is simple - because I wish I did. During my own college search I sought out a faith-based, liberal arts education because I knew that I wanted an experience in which faculty not only knew my name, but invited me into their homes for dinner. I knew that I wanted small class sizes where there was room and encouragement for my gifts of leadership and communication to shine. I knew that I wanted a tight-knit community where I would be exposed to new ideas and new people with gentle and loving shepherding. I found some of those things, here and there, throughout my college experience, but I have no doubt that if I had started at Hesston, I would have found them all. I chose to work at Hesston College because I wanted to make sure that students like me would find where they belong at Hesston.
What is something that you feel Hesston does better than most colleges?
If you ever come to visit or spend any time at all with "Hesstonites" you'll hear this time and time again, but, community, we do community better than anywhere else I've come into contact with a higher education institution. From the way we build mods in the dorms to activities we plan on campus to chapel and campus worship night, there really is no way in which Hesston doesn't strive to encourage communal living that is encouraging, engaging, exciting and ultimately life-giving.
What is some advice for high school students looking for a college?
GO ON A VISIT! I cannot stress enough how important the visit is to making a college decision. It's the only time during which high school students are encouraged to actually envision themselves in the college life that different institutions offer and that envisioning can lead to excitement or apprehension. I like to tell my students that a college visit is kinda like a date, you wouldn't marry someone without going on a date first and you shouldn't pick your college before you go on a visit.
Related Links