In recent years, the Hesston College Horizon student publication has recognized departing faculty members by inviting students and employees to reflect on the impact these professors have made on their lives. With the COVID-19 campus dispersal in March and the impending departure of Horizon faculty advisor and communications prof Kendra Burkey, the college's Marketing and Communications team has the privilege of recognizing this year's departing faculty: Burkey; Carla Lahey, theatre prof, Campus Activities director; and Gary Oyer director of Media and Instructional Technology and archivist.
Gary Oyer
Gary leaves Hesston College this spring after 32 years running the Media and Instructional Technology Services department, providing a/v support for large gatherings and helping faculty use technology, including our Learning Management Software, Moodle. A founding member of Hesston's Campus Stewardship Council, Gary also manages the college's archives. He played a key role in the early development of the HC website and assisted or supported in some way many departments across campus. Gary is still in the process of considering options for his next role.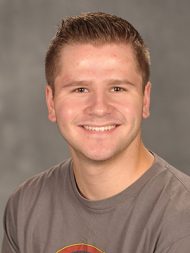 Tobie Plett, sophomore business major, East St. Paul, Manitoba
Gary Oyer was one of my first contacts at Hesston College. For the last two years, I have worked for him in Media Services. One thing I noticed when I first came to Hesston was that faculty and staff genuinely want to get to know their students and employees. Gary was no different. Despite our relationship being professional I was surprised by the personal connection that we developed.
One thing we bonded over was talking about our adventures on the road. Both of us like to take road trips, Gary in particular loves to visit America's national parks. He helped me and my friends plan out the destinations for our spring break road trip which was awesome. He also assisted us by providing us with camping equipment. Gary's expertise and altruistic character is a trait that I have been a witness to in my two years of working with him.
Me and Gary worked well together. Whether it was running chapel, broadcasting games, or doing AV at other events. Being a busy college student, sometimes my schedule would change unexpectedly, but Gary always offered to jump in and help out with whatever was needed.
One thing that I admire is Gary's fascinating insight, which can only be learned by getting to know him on a day-to-day basis. Maybe it is his years of working with technology, or the fact that he has been the Hesston College Archivist for decades, but he has an intelligence and perspective that is truly interesting. His insight is present in our conversations and in the work he does. This is a part of Gary that is inviting to others and nurtures relationships. It is encouraging to witness Gary's welcoming spirit as he treats any and all as good friends.
I am proud to consider myself a good friend of Gary's. His generosity, support, wisdom, and encouraging spirit is apparent to those around him and a vital cornerstone of the college. I am thankful for his service to the college and grateful for the blessing he continues to be in the community.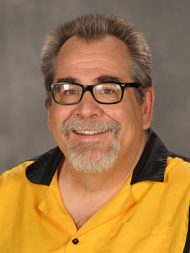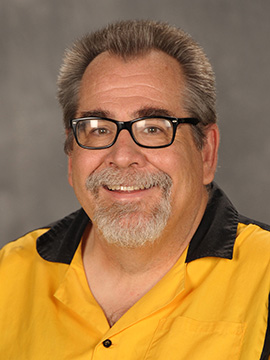 Kevin Wilder, psychology professor
Gary is my neighbor and our kids are the same age, so our families grew up together. We attend the same church and were Bible Quiz coaches together for four years. We also have worked together at Hesston College for twenty-three years. We also have coffee and read a book together and talk about every Thursday. I really doubt that I am done learning from Gary, but I am sorry for the college and the students that will not get the benefit of his deep character and wisdom.
I made a top 10 list:
10. History and Theology matters- learn from the people of the past.
9. Look for goofy stuff on road trips, it will make a better trip.
8. Be very generous with your time. Run to serve people.
5. Prank people regularly.
6. Pray about things and take your time.
5. Be accountable to a few people you can trust.
4. Put things in your calendar, so your phone or watch reminds you.
3. You can do it, but better to teach people to do it.
2. Be honest and direct with people.
1. Life is much much, much, much better when shared with a good friend like Gary.