A day in the life of a Hesston College student during the second half of the spring 2020 semester looks much different than it did during the first half.
For a campus community focused on interpersonal relationships and hands-on learning, the coronavirus pandemic has morphed the student experience into something completely unexpected. But that doesn't mean it has eradicated the Hesston Experience.
"It's not just the place that makes up Hesston College," said sophomore Rachel Miller (Freeman, S.D.). "It's also the students, faculty and staff. Having moved off campus, I miss the feeling of being in a tight knit group and always having someone there for me when I need them, but we're still finding ways to connect and I appreciate that."
Thursday, March 12 – two days before spring break – was the day life changed for the Hesston College community. Early in the afternoon, administration called meetings for both students and employees to inform them of a COVID-19 action plan that would be implemented immediately.
Colleges and universities across the country had been temporarily suspending in-person classes for several days already and Hesston College had decided that was the right decision for its community as well.
College-sponsored spring break trips were canceled, and students with other planned spring break travel were also encouraged to reconsider. Instead of closing the dorms as is typically done for the week of spring break, they would remain open for students who wanted to stay on campus. Faculty and staff also canceled spring break plans in order to prepare courses to be held online when classes resumed on March 23. The online learning period would last for at least three weeks until April 13.
"We take seriously the health and well-being of our students and community members," said President Joseph Manickam. "We also know that part of our responsibility is to act in the best interest of all. For us, that means considering the impact on the communities our students are from, the impact on our students and employees themselves and our own campus community."
As the pandemic continued to snowball, so too did Hesston's plan. By March 18 the decision had been made to move classes online for the remainder of the academic year. The dorms would remain open for students who had legitimate reason to stay – international students who couldn't go home, aviation students who needed to continue flight training, and others who might not have access to essential learning resources.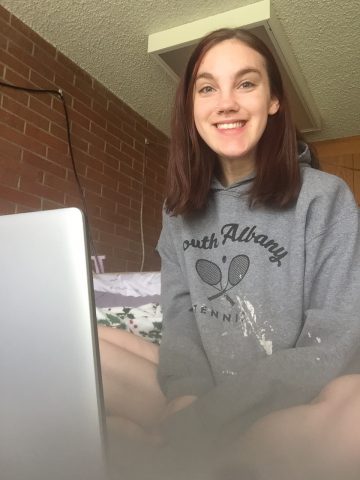 "Staying on campus was my best option for academic reasons," said first-year student Kaytlen Keough (Albany, Ore.). "It's a lot easier for me to continue learning in the place I've been used to learning all year. I chose Hesston College because I knew it would be a place I could find a comfortable space to grow and experience new things within myself. That's still the case even though it looks different."
Keough is one of about 50 students remaining on campus – about 18 percent of the year's full dorm count. According to Deb Roth, vice president of student life, the dorm makeup includes about 50 percent international students, 25 percent aviation students and 25 percent students who demonstrated other legitimate reasons to stay.
On-campus students were relocated to one dorm facility for conservation purposes. In order to comply with social distancing standards, each student also has their own room. Like their off-campus classmates, they still do their learning online. Dining Services continues to prepare and serve meals, though not with the traditional buffet format, and the Campus Activities Board (CAB) continues to organize on-campus student activities for a little entertainment.
"The college has been doing the best job, in my eyes, to take care of my needs as a student as well as my personal needs," said Keough. "Everyone has had to give up something to either help ourselves or others around us. I feel the Hesston faculty and staff have gone above and beyond."
"Having CAB events has provided a welcome break from the daily routine of homework and Netflix," said junior Chris Lichti (Shickley, Neb.), who has remained on campus. "It's nice to have other students around so we can still find some things to do for fun."
Lichti, who is an aviation student, is also pleased with the accommodations that have been made to be able for students to continue flight training.
"If there is a silver lining to the situation, it's the increased flexibility of my schedule to get more flight hours," Lichti said. "We get to continue flight training, just with some added steps to avoid spreading illness to one another. Planes get sanitized after every flight and we are trying to stagger scheduling times to avoid having too many people in the hangar at one time. As much as I dislike online classes, I do recognize that professors are trying their best to adapt and it is difficult for them too. They are willing to meet with us virtually and answer questions, and are being flexible with the students."
Even for the students who returned home, the community aspect and relationships have not been lost.
"I've been connecting with my professors through Google Meet, which is better than only having email all the time," said sophomore Ian Lecki (Overland Park, Kan.). "As for staying in contact with my friends, we talk every day and try to have time once a week to have a colossal Facetime call with 15 to 20 people."
As expected, the switch to online learning has affected students differently.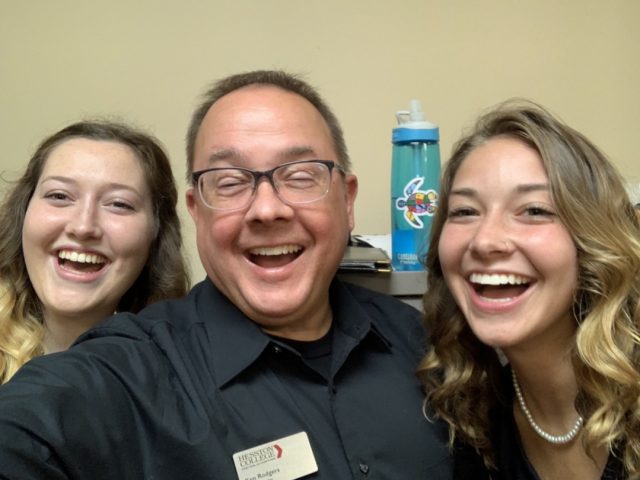 "So far, online learning is going great for me," said Miller. "Professors have been very open to suggestions for ways to make the transition easier for everyone. I meet with two of my classes via Google Meet, and that has been a good experience. My homework load has been the same or less. I know that some people are struggling with more homework but that has not been the case for me. It can be difficult at times though because I find myself getting distracted at home."
"Online learning is a challenge for me as most of my classes require labs to gain a better grasp of what we are learning, and no longer having those labs is tough," Lecki said. "I feel like I am still learning the right amount of material since I have more time to look over everything before and after class, but all I do is look at a computer screen for the majority of the day."
By many professor reports, students seem to be in good spirits and finding ways to adjust to the temporary normal. Yet underlying the positive attitudes is disappointment in an experience cut short.
"Although I would much rather have life go back normal, I have found a positive within all of this," said Lecki. "The world has come to a complete halt. Everyone can have a reset or a time to reprioritize themselves. We can either drag ourselves around sad during this time or use it to our advantage and make the best of it. For me, dealing with the changes and maintaining a positive mindset is important through this tough time. I would much rather have hands-on and social interaction rather than a computer screen, but it's the best we can do right now."