Hesston College class of 2020 nursing students were just getting ready to enter the final eight-week stretch to earning their Bachelor of Science in Nursing degree and prepping to become licensed registered nurses when the world was thrown into a global pandemic with many layers of uncertainty.
As the Hesston College community ended face-to-face interaction and classes moved online, nursing students were left wondering how they would be able to complete critical class time and clinical hours.
Yet one thing that has continuously proved certain as the coronavirus has made its way into communities around the world is the necessity of caring, compassionate and bold healthcare professionals. With its motto of "A tradition of service, a commitment to care," Hesston College Nursing has instilled those values in students for more than 50 years and a global pandemic won't stop it from fulfilling that mission.
"These students have developed flexibility and adaptability that will serve them well in the ever changing world of healthcare," said Becky Bartell, Hesston College director of nursing education.
As early as late February, Hesston College partnering clinical agencies began limiting student experiences in some areas as a way to conserve personal protective equipment and remove extra contact with particularly vulnerable patients. When the college made the decision to move classes online just two days before spring break in mid-March, nursing faculty jumped into high gear, spending their own spring break week exploring virtual clinical options and preparing for online teaching and learning.
"We wanted to ensure we were still providing the best clinical learning experiences in the areas students needed and still meeting our clinical learning outcomes," said Bartell.
The efforts put forth, though quick and unexpected, were positive for both students and faculty overall and continued to equip the soon-to-graduate students with the skills and knowledge they need to join the nursing profession.
"In the beginning, it was a challenge for everyone," said Bartell. "Everything we knew to be constant had changed. However, as we settled in, faculty and students found the changes to have some positive benefits."
Virtual clinicals consisted of scenarios meant to help students develop clinical judgment and decision-making skills. In the interactive case studies, students virtually assessed the patient, gathered and interpreted data, made clinical decisions and developed necessary care plans. In addition, clinical and simulation faculty continued to have pre-conference and post-conference with their clinical groups.
Some clinical groups did case studies of Covid-19 and its effects on each of their hometowns, as well as a case study about a patient with Covid-19, learning about ways the disease presents, lab values, x-rays and treatments.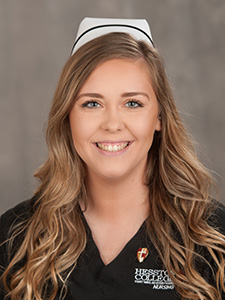 "Our clinical instructors did an incredible job in ensuring we made the most of the situation," said Makenzie Farnham (Little River, Kan.). "Class sessions became pre-recorded lectures, which ended up being a positive when it came time to study for tests because I could go back and rewatch the lectures as a refresher."
More than ever, being away from the classroom students found themselves relying more on the knowledge and confidence they had gained up to the point in-person classes ended.
"I missed classroom interaction with professors and classmates a lot, but I found that I could rely on myself to find answers to my questions," said Ashley Yasin (Lake Isabella, Calif.). "I couldn't always quickly turn to a professor with my question. The situation helped me learn and even teach myself in a better way than I did before.''
To make sure students were getting their questions answered and learning needs met, professors ramped up communication through emails, video messages, study groups and virtual office hours.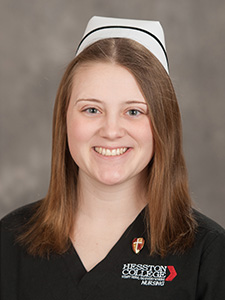 "I never felt as though I was alone in this process," said Jenna Boller (Kalona, Iowa). "Even without a pandemic there is so much to appreciate about Hesston College Nursing. One of the things anyone can see is how much the nursing faculty care about each student. They work countless hours to prepare material and schedule clinical rotations. They take interest in each one of us and are always available to talk or help guide us along. I have always felt supported by all of the faculty and appreciate the dedication they have to the program and educating and training future nurses."
Boller's sentiments were echoed time and again with strong relationships and outstanding support between students and faculty consistently noted as factors in a student's success
A new component was worked into the nursing program at the start of the 2019-20 year – a faculty accountability partner for senior nursing students – that also helped strengthen student/faculty relationships and offer another level of support when the unexpected occurred.
"All year, the accountability partner was in touch with the student, encouraging them and sometimes pushing them to be accountable," said Bartell. "It turned out to be a great touchpoint when classes and clinicals went online."
Senior nursing students completed their coursework on April 22, and the remaining time before the semester ends on May 14 is dedicated to intensive NCLEX-RN preparation – the national exam they must pass to earn RN licensure.
Even though their already intense journey through a difficult program was highlighted by unknowns, students and faculty alike are confident that they are prepared for whatever they will face in their nursing careers."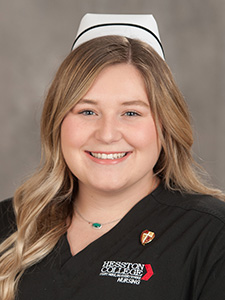 "Each person in the nursing department shows compassion to every student," said Yasin. "It's why I chose Hesston and why I love this program. From my campus visit all the way to now, Hesston College Nursing has given me the confidence and skills to become the best nurse I can be."
"I hope each member of this nursing class of 2020 never forgets why they started this journey in the first place – because they wanted to serve others," said Bartell. "Never forget that what your patients need most is your presence, your listening ear, your critical thinking, your skilled hands and your caring heart."