Hesston College announced the names of full-time students whose fall 2019 semester grades earned them a place on the Dean's List (3.90 to 4.00) and Honor Roll (3.50 to 3.89).
Dean's List – First-year
Christian Becker, Marion, Kan.
Aidan Boettcher, Benton, Kan.
Jacob Boller, Kalona, Iowa
Sydney Bontrager, Milford, Neb.
Luis Caraccioli, Corpus Christi, Texas
Katelin Keough, Albany, Ore.
Destiny Kessay, McNary, Ariz.
Kureha Kimura, Yokohama, Japan
Natalie Ladd, Hesston, Kan.
Grace Litwiller, Hopedale, Ill.
Kara Longenecker, Rockingham, Va.
Alex Miller, Arlington, Kan.
Kanade Morita, Chigasaki, Japan
Claire Moyer, Thompsontown, Pa.
Yuya Muranaka, Hiroshima, Japan
Caleb Oesch, Caldwell, Idaho
Natalie Paramo, Plumas Lake, Calif.
Erin Peters, Hesston, Kan.
Alexis Silvey, Colorado Springs, Colo.
Alexie Tibbs, Paragould, Ark.
Tanner Unruh, Washington, Ill.
Romina Xhari, Lezhe, Albania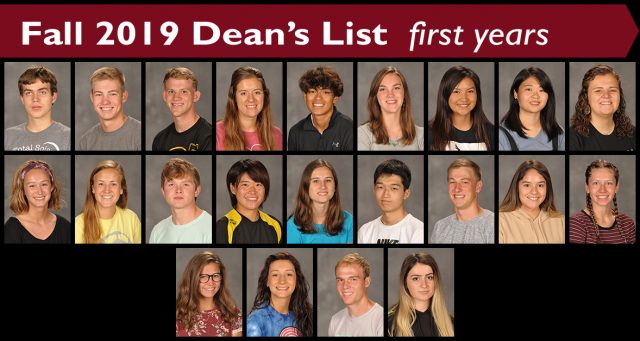 Dean's List – Sophomores
Gabriella Audrey, Semarang, Indonesia
Willow Baer, Marshallville, Ohio
Jacob Baker, Andover, Kan.
Erin Beachy, Middlebury, Ind.
Sabrina Bellar, Conway Springs, Kan.
Abby Busby, Bandera, Texas
Matthew Byler, Shipshewana, Ind.
Olivia Galbraith, Millersburg, Ohio
Levi Geyer, Oxford, Iowa
Alyssa Hershberger, Wellman, Iowa
Mio Hirata, Kani, Japan
Aya Iseki, Taito, Japan
Monalisa Khim, Wichita, Kan.
Hannah Klusman, Ford, Kan.
Jaden Lais, Grantsville, Md.
Dane Milburn, Lincoln, Neb.
Jessie Miranda, Turlock, Calif.
Michael Mullet, Lagrange, Ind.
Macey Murray, Denver, Colo.
Anna Myers, Sedgwick, Kan.
Reese Nebel, Hesston, Kan.
Dara Ness, Goddard, Kan.
Jonathan Ortiz, Wichita, Kan.
Caitlyn Phillips, Mustang, Okla.
Tobie Plett, East St. Paul, Manitoba, Canada
Raelynn Reeves, Abilene, Kan.
Justus Sneary, Harrisonburg, Va.
Rei Vuksani, Tirana, Albania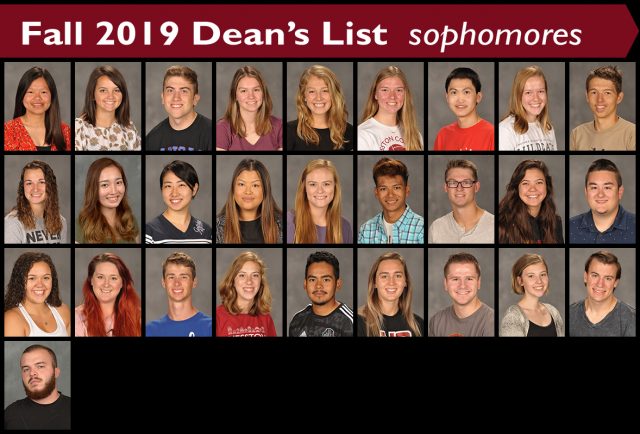 Dean's List- Juniors
Karen Audreyella, Tangerang, Indonesia
Annalys Hanna, Fraser, Colo.
Chris Lichti, Shickley, Neb.
Laura Riehl, Hutchinson, Kan.
Kalissa Walker, McPherson, Kan.
Dean's List – Seniors
Ashley Call, Wichita, Kan.
Nicole Cutler, Hutchinson, Kan.
Makenzie Farnham, Little River, Kan.
Krystan Friesen, Hutchinson, Kan.
Autumn Gehman, Adams, Tenn.
Arianna Herrick, Moundridge, Kan.
Noah Miller, Hesston, Kan.
Megan Thomason, Independence, Mo.
Sally Wilson, Wichita, Kan.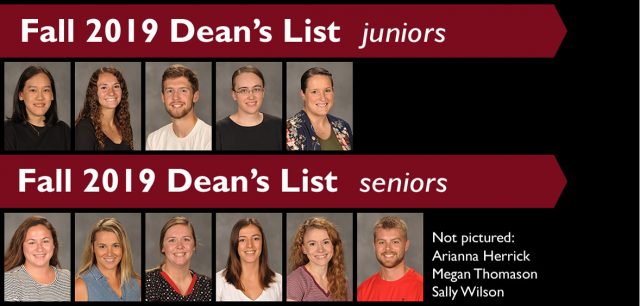 Honor Roll – First-year
Luke Allison, Hurley, S.D.
Easton Barrier, Benton, Kan.
Caleb Bisterfeldt, Whitewater, Kan.
Kerem De La Cruz, Wichita, Kan.
Gina DeFazio, Wichita, Kan.
Morgan Graybill, Freeport, Ill.
Cristal Guzman, La Vega, Dominican Republic
Shoei Imaizumi, Ota, Japan
Marta Jantzi, Salem, Ore.
Ethan Klassen, Mountain Lake, Minn.
Pin-An Lin, Taipei City, Taiwan
MacKenzie Mordecai, Buffalo, Texas
Jo Anne Mulatre, Hinche, Haiti
Paige Myers, Windfall, Ind.
Mikayla Ognissanti, Rocklin, Calif.
Curtis Ohlmeier, Wellsville, Kan.
Suhyeon Park, Pyeongtaek-si, South Korea
Diane Soguilon, Newton, Kan.
Hannah Williams, Corning, Calif.
Jessica Wilson, Spring, Texas
Tobias Yoder, Harrisonburg, Va.
D'Angelo Young, Eleuthera, Bahamas
Benisa Zogu, Lezhe, Albania
Honor Roll – Sophomores
Anyssa Aguilar, Hacienda Heights, Calif.
Jacob Bontrager, Smithville, Ohio
Leah Booton, Lehigh, Kan.
Thomas Brown, Valley Center, Kan.
Muskan Budha Magar, Dang, Nepal
Simone Burgess, Los Angeles, Calif.
Dimitri Giannakopoulos, Cypress, Texas
Trey Greening, Monett, Mo.
Brett Heitschmidt, Lindsborg, Kan.
Emilie Johnson, Canton, Kan.
Sarah Keck, Topeka, Kan.
Ian Lecki, Overland Park, Kan.
Rachel Miller, Freeman, S.D.
Masataka Miyake, Tatebayashi, Japan
Sari Nakazawa, Akiruno-shi, Japan
Emma Prowell, Lenexa, Kan.
Parris Rawls, McKinney, Texas
Maleah Sandy, Girard, Kan.
Jasmine Taylor, Nassau, Bahamas
Navyonny Widyani, Jakarta, Indonesia
Ellie Willinger, Maize, Kan.
Laura Yeboah-Appiah, Kumasi, Ghana
Laurine Yeboah, Appiah, Kumasi, Ghana
Ellie Yoder, Seattle, Wash.
Ejona Zogu, Lezhe, Albania
Honor Roll – Juniors
Gracie Hochstetler, Leesburg, Ind.
D.J. Kintigh, Middlebury, Ind.