It's not unusual for Hesston College employees to have long tenures. After all, when you find a community that welcomes you, embraces you and supports you so well, it's easy to love it and you stay where life is good.
At least that's how Brent Brockmueller '01 has felt about it for the last 13 years.
What's unusual about Brockmueller however, who is more commonly known by his nickname "Dogg," is that he's devoted 10 and a half of those years as a resident director (RD), a role that typically sees turn over every two to three years as it tends to draw young adults fresh out of college as they transition to "the real world."
"When I came to Hesston as RD, I envisioned being here a long time – but my definition of 'a long time' was like four years," said Brockmueller. "And that was a long time. As far as I know, in at least the 10 years prior to that, there hadn't been an RD here that long."
By way of formal definition, a Hesston College resident director is part of the Student Development team, and along with a team of three other resident directors, they live on campus and oversee student life and housing. They supervise a student staff of resident assistants, assist in maintaining campus lifestyle standards and serve as a role model and mentor for students.
Informally, resident directors are so much more than what their job descriptions state. They are a listening ear when students need advice or to vent. They open their apartments for students to cook, bake, watch movies or just hang out. They provide rides to the airport or appointments. They "rescue" students whose cars have broken down, whether it's 10 minutes or hours away. Sometimes they have to do the hard things, too, like disciplining students who have violated campus lifestyle standards. They sometimes get woken up in the middle of the night to deal with an issue, turn off a fire alarm or talk with a student. They are always at the ready to help however they can.
From the fun times connecting with students to the not so fun, Brockmueller stuck it out much longer than most because he cares so deeply for the students and enjoys watching their growth and development as they transition into young adulthood.
"I just love this place," Brockmueller said. "As a whole, our students take care of each other so well. They look out for each other, and that's always been something I have enjoyed about being here in this role."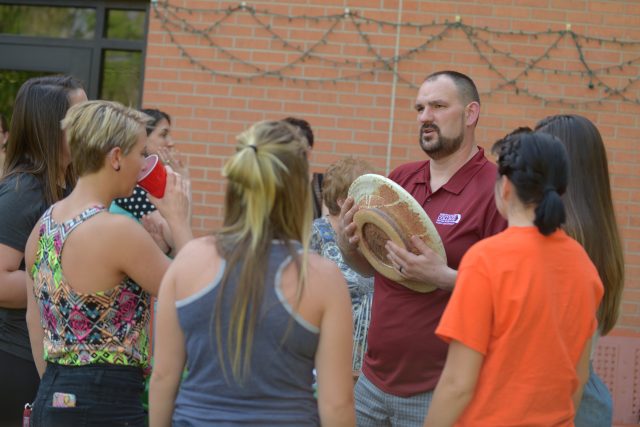 Brockmueller started his journey as RD in August 2005 after completing an undergraduate degree in elementary education from Tabor College (Hillsboro, Kan.), student teaching and spending a semester as a substitute teacher. As a Hesston graduate, he was sold on what is known as the Hesston Experience – a college experience that is genuinely welcoming, nurturing and supportive – and he wanted to be a part of it again, this time from a staff perspective.
His plan of four years turned into six before Brockmueller decided to give up his post as RD. He had gotten married during fall break of that final year, and decided it was time for him and his new wife, Angie (Martin) '99 Brockmueller '13, to move off campus and on to new things.
The Brockmuellers didn't move far as Angie had decided to start nursing school in Hesston's program. Shortly after making the decision to end his time as RD, a job opened up at the college for an admissions counselor, and Brockmueller was hired.
After two years in Admissions and with Angie also having finished her nursing degree, the Brockmuellers bid farewell to their years of service to Hesston College and found new jobs in the local area – Angie as an RN with her newly minted nursing license and Brent working in activities at a local retirement community. But it didn't last.
"After I'd left the college, I would have conversations with Mitch Stutzman '09, who was the new RD, about RD life," said Brockmueller. "One time, Angie told me, 'You know, if you wanted to be an RD again, you could.' I said I wouldn't put her through that again, and she said, 'I don't mind living in the dorms – it's not terrible for me.'"
Offhandedly, Brockmueller asked then Vice President of Student Development, Lamar Roth, if he would ever consider rehiring somebody:
"He said, 'I don't know, it depends who it is,'" said Brockmueller. "And I was like, 'Well, it would be me. And it was Angie's idea.' I think that spoke the most because, truly, being married in this role is not ideal – not ideal for the RD and not ideal for the students. But Lamar loved the idea of married couples because they could be a model to students of a healthy relationship."
Coincidentally, after just one semester away from the Hesston College community, a male RD position was vacated in the middle of the year, and Brockmueller was asked to step in to finish out the year.
And when that one semester was up…he stayed for four more years.
"I just knew that if I was going to live around here, then Hesston College is where I want to work," Brockmueller said.
Now the Brockmuellers are preparing to move away from Kansas, back to Brent's hometown of Freeman, S.D., where he will take over his family's farming operation. Angie, who has spent several years working as assistant registrar and interim registrar during times of transition, will continue in her Hesston College role remotely.
The move, Brent says, will be bittersweet.
"Going back to the farm has always been part of my plan, so I'm excited about that, but I'm really going to miss this, too," he said. "I enjoy getting to know the students. Being an RD at Hesston is different than it is at a lot of other places. Other schools have really pushed for the professionalization of the role – RDs keep office hours and that's when students can reach them. Here, the culture is for RDs to have their apartment doors open and students just wander in. RDs just wander into mods as well and spend time with the students. So much of what we do is being intentional with our relationships."
Along with his RD role, Brockmueller has found time through the years to also serve as Campus Activities Board (CAB) director, assistant women's basketball coach, mod parent (yes, even living in the dorms) and a sponsor for the Bills and Normas.
"Each year I would connect with my RAs (student resident assistants) most because that is who we worked most closely with, so having these other positions gave me opportunities to make connections with some other students as well," he said.
With as many experiences and situations as he's seen during his 10 and a half years in the RD apartment, he will be missed as well.
"I don't know what we're going to do next year because Dogg has all the wisdom," said RD Megan Baumgartner '15. "There's just these little things that come up that we've never seen before, but Dogg has. Or I don't know what to do with a situation, but Dogg has done it plenty of times. It's all those little things we didn't know we didn't know."
After being witness to plenty of fun, harmless pranks, watching countless movies and connecting with hundreds of students, the Brockmuellers are working on packing and preparing for their move this summer. Some of the most precious things Brent will take with him are his memories of living with students in the dorms.
"There are times when the RD definitely has to be the bad guy and we have to deal with situations we don't want to, but there are also times where there's been some sort of tragedy in a student's life, and those are terrible, sacred times," he said. "Just being there, you hope it helps them. Letting them cry or sit quietly. Those are times I'm really going to miss – being depended on by the students. That's always one thing I've enjoyed – people can depend on me if nothing else."