Hesston College graduates were sent on to their next chapter challenged to love with the radical love of Jesus at commencement exercises on Sunday, May 13.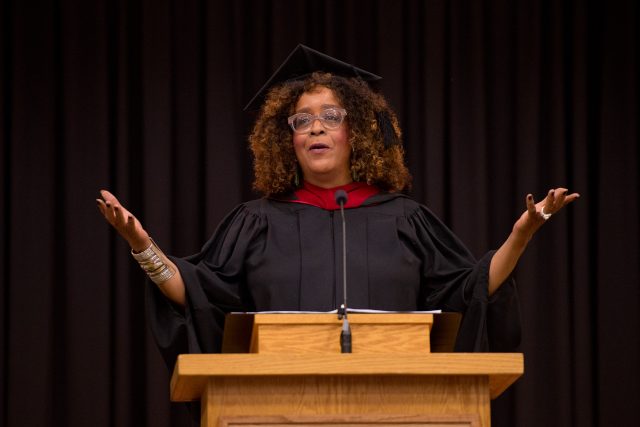 Michelle Armster, M.Div., executive director of Mennonite Central Committee (MCC) Central States (North Newton, Kan.,) delivered the commencement address, "What's love got to do with it?" based on the 2017-18 Hesston College theme verse of I Corinthians 13:1-3, encouraging the graduates to choose love in whatever they do with their lives.
"In Matthew 25, in the parable of the sheep and the goats, Jesus is very clear what it means to love like him and what we are supposed to do," Armster said. "He says feed the hungry, give the thirsty something to drink, clothe the naked, welcome the stranger, comfort and heal the sick, support the imprisoned. And often when this is read we hear crickets because this kind of love is very clear, but this kind of love is really hard. It expects giving of ourselves and sacrificing for others. It challenges powers and principalities. It also demands that we work to confront and dismantle the systemic oppressions that allow these conditions to exist."
"So I say to you all today, choose love," Armster continued. "Graduates, you are not the future, you are the now. So to love like God, you may need to look in different places. Because love speaks life, not death. Love speaks hope, not despair. Love speaks acceptance, not condemnation. Love speaks inclusion, not exclusion. Love is a choice. Love is a commitment. And we need you to choose love and to show us how to love again. Because the Good News, the Gospel, is about love for everyone."
Two students, Jose Lezama Mendoza, Barquisimeto, Venezuela, and Mackenzie Miller, Lancaster, Pa., were nominated by faculty and staff and voted by their classmates as the graduate speakers to reflect on their Hesston Experience.
President Dr. Joseph A. Manickam, Ph.D., conferred 47 Bachelor of Science in Nursing degrees and 84 associates degrees.
The 47 nursing program graduates were honored at the Nursing Pinning ceremony on May 12. Alice Thornton Bell, APRN, MPA, MA, MSN, senior director at the Advisory Board Company, and mother of graduate Geoffrey Bell, delivered the address, "We Must Do Better Than This."
Other May 12 events included a recognition ceremony was held for students completing the Disaster Management Program. Krista Rittenhouse, a 2012 Disaster Management graduate, delivered the message, "It every day bro." Rittenhouse serves with Mennonite Mission Network's Service Adventure in Johnstown, Pa.
The Aviation department honored graduates completing the professional pilot and air traffic control programs of study. John Reimer, a 1990 Hesston Aviation graduate and demonstration pilot at Textron Aviation in Wichita, Kan., delivered the reception address.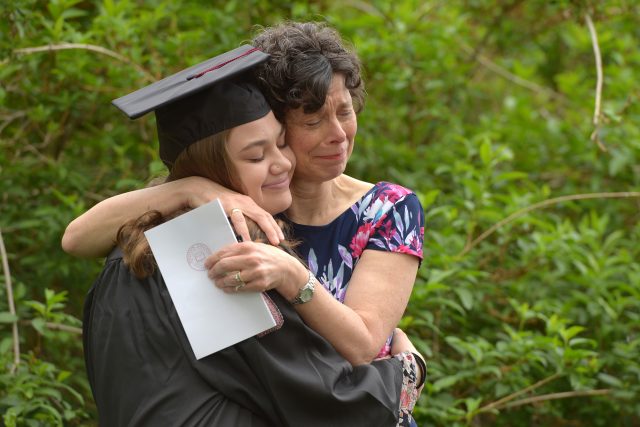 Watch a video of the full commencement exercise and other livestream events from the weekend.