While many students rely on textbooks as a key tool for learning, Hesston College sophomore Aya Iseki (Tokyo, Japan) prefers to look to the sky.
Only sixteen years old when she first arrived at Hesston College, Iseki knew she had to continue her studies in science and math in the United States. This was the way to get to space. That, and the fact that Iseki had just passed Japan's government-issued exam to skip high school, but was still too young to attend college in her home country.
"I realized I wanted to go to space when I was a junior high student," Iseki said. "And I decided to come to the United States to learn about it. If I went to high school in Japan, many teachers would say you don't need to understand it, just memorize it. I don't like [learning] that way."
While not all schools in Japan are the same, Iseki notes that general education in her junior high school was slower than average. Her school emphasized life skills such as sewing, cooking and self-management.
But now at Hesston, Iseki finds the Kansas sky to be the best classroom for her career passions.
"When I was in Tokyo, I could only see a few stars and the moon," Iseki said. "Tokyo is too bright and there are too many buildings. This is my first time to see the horizon in my daily life. I can see beautiful skies at night."
Iseki may be an especially young student at Hesston College, but among her seventeen college credits, which include Physics I and II, Calculus I and II, Astronomy and Introduction to Computers, Iseki has straight A's.
"I don't understand everything in class," Iseki said. "But it is not because of my age, but because of my English skills."
The universal nature of science and math is one reason Iseki excels in those areas here in the United States.
"Science classes are different," Iseki said. "I usually use numbers and function equations for physics and math, so that is not language. I can understand them without English."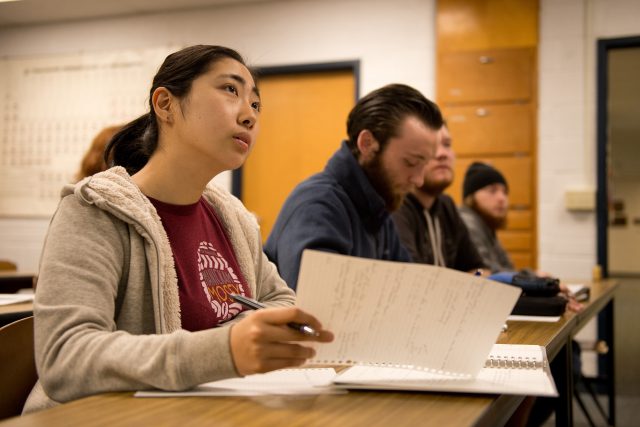 "Learning for Aya means imagining the physical concepts in her mind, and she easily draws pictures of these phenomena," physics and engineering professor Joel Krehbiel said. "One of Aya's best qualities is that she is self-motivated. While grades are important to her, it is more important that she understands the concepts. She doesn't compare herself to others; rather she always seeks to improve her own knowledge."
Iseki's dream is to one day go to space, though she has yet to choose which path she will take to get there. When she makes that decision, she knows it is one she will make for herself.
"If I talked about my dream to my parents, friends or teachers, they will respond with their opinion or what they think," Iseki said. "But I want to think by myself, only me. I know my determination won't waver if someone gives me advice. My dream is 'my space.'"
Though her composed demeanor and mature mind would hint otherwise, Iseki is still only seventeen years old. Thousands of miles away from her home country of Japan, Iseki faces challenges like anyone else her age.
Iseki notes that the English language as well as social expectations, such as making friends, are the hardest aspects of being an international student. But that hasn't stopped her from experiencing college to the fullest. Iseki is taking as many STEM courses – Science, Technology, Engineering and Math – as she can fit in, and is a tutor for physics. Over spring break, she did service with Mennonite Disaster Service in Texas.
All these activities, as Iseki said, help her find a healthy balance.
With only one more semester to go at Hesston, Iseki plans to return to Japan for a period of time after graduation to discern which path of study she will choose next. But Iseki knows for sure that she will return to the United States.
In the meantime, Iseki is a diligent student. Her face lit up as she discussed the quantum mechanics unit she is currently studying that closely ties into her interest with space and astronomy.
"I am a curious person, and when I was a child, I liked to consider why and what," Iseki said. "There are a lot of mysteries in the universe, and I want to know about that. It is different to see and feel by myself than to read books or watch it on TV. I want to see and know by myself."
Krehbiel notes that her strong organizational, relational, and mathematical skills will equip her well for whatever life brings her. And right now that passion is physics and mathematics.
"For curious souls like me, the universe is filled with wonders that stimulate my curiosity," she said. "Every time I know something new about the universe, I am amazed to find the existence of an unknown world. It attracts me. I wish to study the universe seriously."
by Mackenzie Miller '18