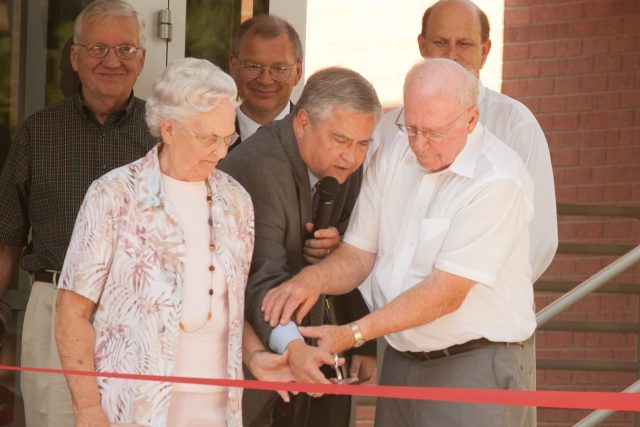 The Hesston College community mourns with the Paul Friesen family in the death of his wife, Wilma (Wenger) Friesen, on Friday, March 9, just two days shy of her 94th birthday.
Paul is a revered emeritus faculty member in art, who also started the art program in 1956. Wilma was constant in her support of whatever Paul needed to do for his art, his program and his students. At the 2008 dedication of the Friesen Center for Visual Arts, named in Paul and Wilma's honor, Paul stated, "I give her [Wilma] a tremendous amount of credit for the things she had to put up with and the things she had to do. In spite of all that, she continually gave me encouragement."
Wilma was a 1944 graduate of Hesston College, as well as four of her six children – Kelvin Friesen '73, Jan (Friesen) '75 Roth West, Gregg Friesen '78 and Jennifer (Friesen) '84 LeFevre – and several grandchildren. Her grandson Jaecy Friesen is a flight instructor with Hesston College Aviation, son Kelvin is the Board of Directors chair and daughter Jennifer is a former physical education faculty member and coach.
Visitation will be 2 to 4 p.m. on Saturday, March 17, at Hesston Mennonite Church, followed by a memorial service at 4 p.m.
Our prayers go with the Friesen family in the days and weeks to come.