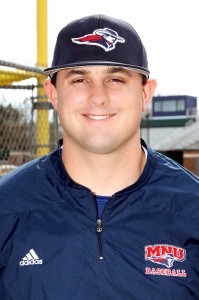 Hesston College athletic director Art Mullet has announced the hiring of Rob Ramseyer as baseball coach. He will succeed Mullet, who is retiring after 30 years as athletic director and baseball coach at Hesston.
Ramseyer will finish in his role as assistant baseball coach at MidAmerica Nazarene University in Olathe, Kan. Originally from Wichita, Kan., Ramseyer earned an undergraduate degree in history from MNU in 2006 and a master's degree in sport studies from the University of Kansas in 2010. He played two years as a first baseman for MNU. Ramseyer has coached at MNU since 2007, helping the Pioneers to four consecutive seasons of at least 20 wins, a first for the program. MNU finished the 2011 regular season with a 29-15 mark, winning its first Heart of America Western Division Championship and receiving votes in the national polls for the first time.
"We are thrilled to have coach Ramseyer join the Hesston College community as baseball coach," said Hesston College Vice President of Student Life Lamar Roth. "His experience and commitment to Christian Higher Education is most evident and his ability to mentor and lead our young athletes will continue to strengthen the program Art Mullet has lead for 30 years."
"Coach Mullet built a great program for three decades and positively influenced the lives of young people through his exemplary leadership," Ramseyer said. "It is my goal to continue to build upon his legacy and strive to sustain a winning baseball program that offers our student-athletes the opportunity to build character, solidify personal values and develop leadership skills.
Ramseyer started his coaching career at Lawrence Free State High School in 2006 where he served as an assistant varsity coach and head coach in the American Legion summer baseball program.He has spent several summers working in the Athletes in Action Baseball Organization. In the summer of 2008 he was the head coach of the Bolivar A's of the New York Collegiate League.He served as the head coach for the Fairbanks AIA Fire of the prestigious Alaska Baseball League in summer 2009. He also was an assistant coach for the Bourne Braves of the Cape Cod League, who tookthe Western Division Championship in the summer of 2010.
"I am honored and humbled to have the opportunity to serve as baseball coach at Hesston College," Ramseyer said. "My wife and I could not be more excited in becoming part of the campus community at Hesston.We were very impressed with the people of Hesston College from our first interactions and throughout the interview process. It is a unique institution with a very strong commitment to Christian higher education and competitive athletics."
Coach Ramseyer and his wife Charlie will reside in Newton.