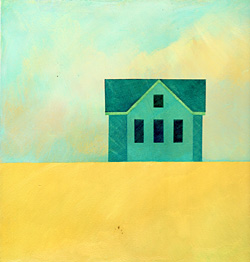 Hesston College graduate, former employee and artist Ken Gingerich is making a brief return to campus with his exhibit, "Thin places shine in time and space. Stone hearts dance in cosmic grace." The exhibit will be displayed in the Friesen Center for the Visual Arts art gallery until April 5. The public is invited to an artist's reception March 16 from 4 to 6 p.m., where Gingerich will talk with guests about his work.
Gingerich's exhibit, which features acrylic paintings on masonite, references the Celtic spiritual tradition of "thin places," which are the points in life that allow people to sense God's nearness.
His inspiration came from verse 40 in Luke chapter 19 that says, "I tell you, if these were silent, the stones would shout out." Gingerich says it was this idea of all creation, even inanimate objects, recognizing God's presence that drove "Thin places."
"'Thin places' refers to a sense of interconnectedness between the material and spiritual world," says Gingerich. "I think it is something western Christianity lost in the transition from a more unified Hebrew world view to the dominant Greek dualism that separated spiritual and material realms. I find the creative process is where these realms can come together, and I'm beginning to understand the power of symbolism to help us make the connections."
Gingerich's art uses symbolism to express his interpretation of "thin places." Color inspired by a memory, a particular view or a dream began the creative process for each individual piece. These colors, along with simple geometric patterns, architectural shapes and his home of Albuquerque, N.M., create the representations of "thin places."
"Most cultures, ancient and modern, have symbols that represent the presence of mediating places or sacred centers," said Gingerich. "In Christianity it's the cross, in Judaism it's Mt. Sinai and in many Native American cultures the four sacred directions emanate from an axis that connects the physical world with the spiritual. My reference points are the mountains, deserts and immense landscapes I can see from most vantage points around Albuquerque. I find the huge empty spaces between Albuquerque and Hesston are really very full."
Gingerich graduated from Hesston College in 1971, then completed a B.A. in art from Bethel College (North Newton, Kan.). He has pursued various vocational paths, both artistic and otherwise, in a nearly 40-year career.
Gingerich has worked as a graphic designer for Mennonite Central Committee in Akron, Pa., the Rio Grande Zoo in Albuquerque and Mennonite Church USA, whose main office is located in Elkhart, Ind., a position he has held since 1995. He and his wife, Leona, also served as volunteers with MCC in Northeastern Brazil. Gingerich worked in publishing and print design in Indiana before returning to Hesston College in 1984 as alumni director, and later as publications director. In 1990 Gingerich moved his family to New Mexico after their home in Hesston was destroyed by a March tornado that took much of the town. There, Ken and Leona provided leadership to the recently established Albuquerque Mennonite Church, and he also spent a year in a graduate program for non-architectural majors at the University of New Mexico (Albuquerque). In 1995 Gingerich returned to Indiana to begin working for Mennonite Church USA, and in 2004 he moved back to New Mexico where he continues to work as art director.
The Hesston College art department invites the public to view the exhibit at leisure. The Friesen Center Art Gallery is open Monday through Friday 9 a.m. to 4 p.m.
Located 30 miles north of Wichita, Hesston College is the two-year liberal arts college of Mennonite Church USA.