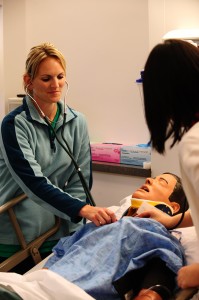 The nursing program at Hesston College was formally granted re-approval by the Kansas State Board of Nursing (KSBN) at a Dec. 13 and 14 meeting in Topeka.
The Board's recommendation came from a two day visit to the Hesston campus in late September. After visiting with nursing faculty and assessing the program's facilities, curriculum and resources, the program was recommended for re-approval for the full eight years. The next survey will be coordinated with the visit from the National League for Nursing Accrediting Commission in spring 2018.
"Nursing faculty, staff and students feel affirmed by the recent KSBN site visit, report and formal action to grant full approval," said Hesston College Director of Nursing Bonnie Sowers. "We are pleased that our nursing program was found to be in full compliance with all relevant state regulations and that many program strengths were noted."
Among the regulations the Board assessed and named as strengths to Hesston's program are professional and efficient faculty and positive and satisfied graduates.
The program's strengths agree with those of the wider college, which was named the number 2 two-year college in the country in terms of student success rate by Washington Monthly magazine in August.
Since Hesston College's first class of nursing graduates in 1968, 98.6 percent of the program's graduates have passed the national licensure exam to become registered nurses. More than 1,300 nurses have gone through the program in its 44 years of existence.
"None of this would have been possible without the strong curriculum standards that have been in place at Hesston College over time, as well as the incredible focus, effort and abilities invested in the nursing program by our faculty, staff and students," said Sowers. "In the end, it is the patients of our graduates who will benefit from the program's high standards and our faculty's emphasis on caring and competence."
Located 30 miles north of Wichita, Hesston College is the two-year liberal arts college of Mennonite Church USA.