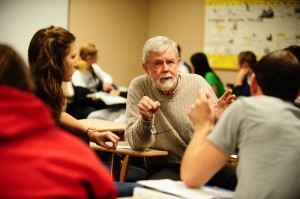 ]
Dr. Robert Enns is used to adventure. He and his wife Ruth have spent a nearly 50 year career in various assignments in California and Japan. Moving to Kansas for Bob's nine-month stint as sociology professor at Hesston College fit their pattern.
Bob and Ruth arrived in Hesston from Fresno, Calif., where they spent most of their life, about one week before classes started in August. Bob had agreed to step in for a year while the college looked for a permanent replacement for a professor retiring after 37 years.
Bob earned an A.A. from Reedley (Calif.) College and a B.A., M.A. and Ph.D. in sociology from the University of California, Santa Barbara. He also has a B.D. from Fuller Theological Seminary (Pasadena, Calif.). He spent 30 years teaching sociology at Fresno Pacific University, retiring in 2000.
"I wasn't interested in another job," said Bob. "My wife always looks at the job openings in the 'Mennonite Weekly Review' and she saw Hesston College was looking for a sociology professor. The job description was for classes I taught previously. I sent an inquiry letter saying I would come if they needed me."
So Bob took a break from doing what he calls the "miscellaneous things" he had been doing for 10 years to return to the classroom.
After Bob's retirement he and Ruth spent one year teaching English in Osaka, Japan, followed by 19 months leading a small Mennonite Brethren church in Nagoya, Japan. When they returned to California, Bob spent six months as the part-time interim pastor at his home church, College Community Church in Clovis. Most recently he was working on his memoirs for his children and grandchildren.
The retirement trip to Japan wasn't Bob and Ruth's first, however. They spent 12 years in Japan from 1962 to 2006. On their first trip they served as missionaries with what is now Mennonite Brethren Missions and Services International, working mainly in student evangelism. Other trips to Japan included both Bob and Ruth teaching at Osaka Shoin Women's College, doing research for his dissertation, writing a profile on Mennonites in Japan, subbing for a professor at a Methodist university and leading five 30-day study trips for students at Fresno Pacific University.
Bob is now incorporating his cross-cultural experiences into his classes at Hesston College, exposing students in south central Kansas to another country's ideas of humanity and society.
"I have always tried to have a strong cross-cultural emphasis in my classes, and to be enthusiastic about the need for thinking sociologically," he said.
He admits that being in a new place has taken some getting used to. He's not only learning about a new place and getting back into the rhythm of teaching, but getting to know a new generation of students as well.
"I have met some of the finest students here," said Bob. "They are bright, motivated and taking advantage of what a small college like Hesston provides – many opportunities to be involved in a wide variety of activities. It's great to see that there are still places that value those learning experiences."
Not even 10 years away from the classroom can dull a good educator's ability to get through to students who are so often wrapped up in their own culture. Lucky for Bob, many of his students are enjoying the different cultural perspective he brings to the classroom.
Omar Reyes, a sophomore from Hugoton, Kan., is in Bob's Cultural Anthropology class. "He is so passionate about what he teaches," said Reyes. "He uses Japan as an example of a different culture and society in class and the fact that he is speaking from experience makes it hard not to be interested."
Bob sees his time at Hesston College with the new experiences, learning to know new people and facing new challenges as another part of his life's journey and adventure.
"Being at Hesston College has been an interesting and enriching experience," said Bob. "I am amazed to find such a unique college. The concept of a two-year college that focuses on the transition from high school to upper-level learning holds a lot of promise. We are very thankful for the opportunity to be here."
Located 30 miles north of Wichita, Hesston College is the two-year liberal arts college of Mennonite Church USA.