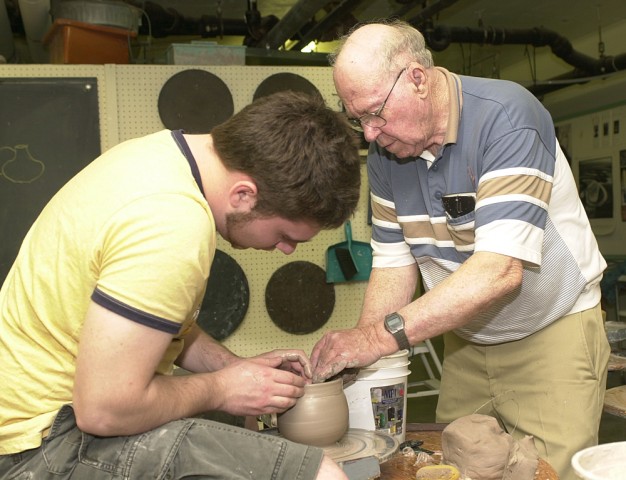 Spring 2005 marks the second retirement of visual arts professor Paul Friesen from Hesston College.
Friesen officially retired from Hesston in 1978, but was invited to teach the second-year ceramics class at the college the past four years during the spring semester. He says he's sorry to call it quits at the end of this school year in early May, but needs to due to a hearing problem. "I like working with young people, especially those who are enthusiastic and energetic," he said.
Friesen graduated from Hesston Academy in 1942 and Hesston College in 1944, and after additional schooling, pastored two churches in Illinois before coming back to the college as an art instructor in 1956. "At that time, art was still frowned upon by Mennonites yet as vain and useless," he explained. "It didn't have functional value like home economics and industrial arts, which were seen as occupations with which one could make a living. And the images created by artists were almost looked upon as idols."
"I feel I was fortunate to be given a chance to launch a program in visual arts at a college in the Mennonite Church," Friesen said, "even though I thought I'd be a pastor all my life. However, I found myself serving in a pastoral role as a teacher in a church college.
"My seminary experience was valuable as I went into visual arts," he continued. "Visual arts can be meditative and a significant teaching media." Friesen focused his teaching on ceramics and sculpture.
In addition to serving at Hesston College, Friesen directed the art program at Bethel College from 1959-63, and continued teaching there until 1989.
These days, Friesen spends 6-10 hours a day in the basement studio at the Hesston Wellness Center, where he teaches several community classes. "I don't see my teaching career coming to an end," he said, "just my college career. I enjoy working here with a variety of ages, even homeschooled children.
"I can still influence and challenge people, even visitors, to look at visual arts with new perspective, insight, and appreciation," he said. "It's still a pleasurable experience to make things, and I appreciate the supplemental income."
"Not only has Paul contributed his artistic gifts to all of us," said Academic Dean Marc Yoder, "his insights about the visual arts continue to have a profound impact on the Mennonite Church. Paul is a wonderful model of life-long learning as he continually seeks to enhance his own skills and understanding of art."
Friesen and his wife Wilma have six children and 12 grandchildren. They are members of Hesston Mennonite Church.