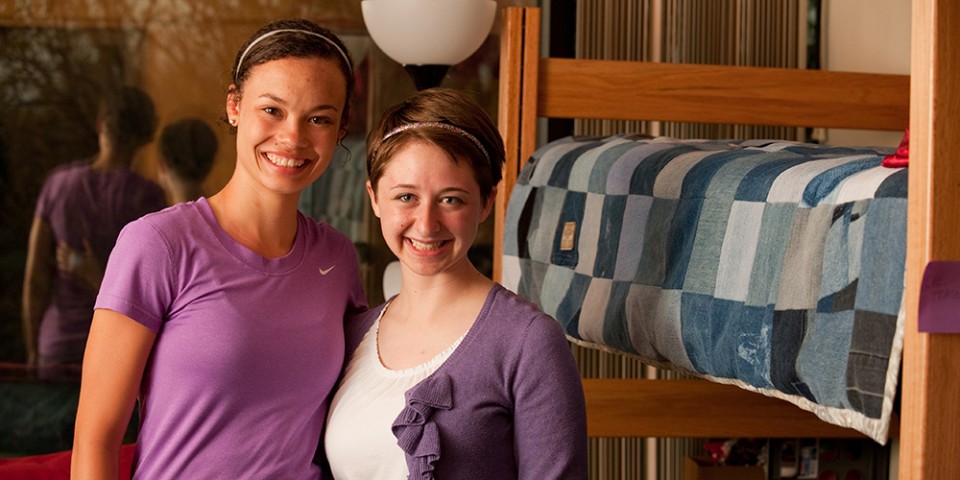 Welcome to Hesston College
We hope you take the opportunity to learn to know people here, enjoy the activities and help students make this important transitions.
Parents, I hope you can take advantage of the special sessions we have planned for you. We pride ourselves on our hospitality, and will be disappointed if we fail to serve you in any way.
If you have any questions, ask any staff or faculty member nearby or stop by the Admissions Office on the second floor of the Alliman Administration Center. Thank you for being here. We hope this is an enjoyable Opening Weekend for you and your family.
Dr. Howard Keim, president
Schedule see below
Do I need to go?
Events marked with these symbols are required for:

New On-Campus Student

New Off-Campus Student

Returning On-Campus Student

Returning Off-Campus Student

New Student Parents

Parents of athletes

All Parents
Thursday, August 14
8 a.m. to 5 p.m. – Nursing III LPN orientation and registration activities Room 14, Charles Hall

12:30 to 2:30 p.m. – Orientation: Academic Life – new off-campus students Lambright Hall, Lemons Center

2 to 4 p.m. – Check in and registration – new and returning off-campus students and resident assistants Community Center, Hesston Mennonite Church

Allow one to two hours for registration. Late arrivals register by appointment. Call 800-995-2757.
Friday, August 15
8:30 a.m. to noon – Residence hall check in

Start at tents outside of Erb Hall and Kauffman Court.

8:30 a.m. to 3:30 p.m. – Registration for all on-campus students Community Center, Hesston Mennonite Church

Allow one to two hours for registration.

11 a.m. Campus tour

Meet in Foyer, Hesston Mennonite Church

1 to 2 p.m. New on-campus Student Life orientation Sanctuary, Hesston Mennonite Church

1:30 to 2:15 p.m. Reception for "New to Hesston" parents Dining Hall, Bontrager Student Center

Reception for parents new to the Hesston Experience. President Howard Keim will give an introduction to Hesston College and answer your questions.

2:30 to 3:30 p.m. Athletic orientation for freshmen/first-year winter/spring athletes & parents Dining Hall, Bontrager Student Center

3:30 to 4:15 p.m. Alumni Legacy Parent Reception Lobby, Smith Center

Hear about alumni events for the year and meet other alumni parents.

6:30 to 7 p.m. President's Scholars Reception Library, Smith Center

Come and go reception for President's Scholars and their parents or spouse. Brief presentation by President Keim at 6:45.

7:30 p.m. Opening Celebration Sanctuary, Hesston Mennonite Church

This is the first campus community event for the new school year. Students and their families, faculty and staff will gather to share hopes and dreams and to ask for God's blessing and guidance. Afterward, everyone is invited to the Dining Hall in Bontrager Student Center for an ice cream social.

9 p.m. Ice cream social Dining Hall, Bontrager Student Center
Saturday, August 16
7:45 to 8:15 a.m. Breakfast for all on-campus students Community Center, Hesston Mennonite Church

8:30 to 10:15 a.m. Complimentary Parents' Breakfast & orientation Dining Hall, Bontrager Student Center

Meet Hesston College President Howard Keim. Student Life staff will review student schedules, policies and expectations, followed by a question-and-answer time. Attendance is strongly encouraged.

8:30 to 10:30 a.m. Orientation: Academic Life – new on-campus students Community Center, Hesston Mennonite Church

10:30 to 11:15 a.m. Academic life: advisors with parents Sanctuary, Hesston Mennonite Church

11 a.m. to noon Performing Arts open house for all parents and students Room 109, Northlawn

A come-and-go event for students and parents wanting to learn what the music and theatre programs offer.

12:45 to 3 p.m. First-Year Seminar orientation for all new students enrolled in First-Year Seminar Sanctuary, Hesston Mennonite Church

5 p.m. Women's soccer scrimmage Bethel College, North Newton, Kan.

6 p.m. Volleyball vs. alumni scrimmage Yost Center

7:30 p.m. Men's soccer intra-squad game Soccer Field
Sunday, August 17
10:30 a.m. Opening worship service Sanctuary, Hesston Mennonite Church

1:30 p.m. Parent/student goodbyes Larks Nest Patio

2 to 3:30 p.m. New student games Soccer Field

6 to 6:45 p.m. Campus picnic for students, faculty and staff Open space, Northlawn

Off-campus students, faculty, staff and their families are invited to join on-campus students for an evening of food, fellowship and fun. Free for all students, faculty and staff. Reservations required by Friday, Aug. 8. Call 620-327-8178.

7 p.m. Mod Olympics Yost Center