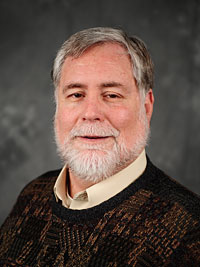 "As a conference regional minister, I loved the program and had worked with many of its graduates," Lichti says. "But when I heard about the opening, I didn't have a curriculum vitae. What I did have was passion for leadership development and a commitment to non-traditional students, that plus someone I trusted tapped me to apply. So I did."
Lichti, Goshen, Ind., began his work as director of Pastoral Ministries for Hesston College in February. He replaced David Greiser who left the post to pastor North Baltimore (Md.) Mennonite Church. He has a master of divinity from Associated Mennonite Biblical Seminary (AMBS) in Elkhart, Ind., a bachelor of arts from California State University, Long Beach, and an associate of arts degree from Long Beach City College. He attended Hesston College for one year in 1969.
Previously, Lichti served Indiana-Michigan Conference of Mennonite Church USA as a conference regional minister from 2000 to 2009 and was co-founder and executive director of Menno-Hof in Shipshewana, Ind., from 1987 to 2000. Lichti pastored Marion Mennonite Church in Shipshewana from 1979 to 1987.
Hesston's Pastoral Ministries program was developed in 1985 to meet a need for mature students with a strong call to ministry for pastoral work. Students take classes in Bible, theology, church ministry, supervised experience, general education and a seminar in formation. The program may be completed in either a two- or three-year plan. Lichti sees it as playing a vital role in the pursuing Mennonite Church USA's churchwide goal of developing and nurturing leaders.
"Our program offers students the unique gift of experimentation that is critical for the church to be missional in a modern-postmodern world," Lichti says. "We present core values and teachings that will survive and retain a commitment to our Anabaptist legacy, yet we also model and allow students to reflect a creative, outside-the-box way of thinking about the future of the church."
Lichti acknowledges this is a big job within the church and one that is necessary for long-term survival, especially in light of changing demographics within Mennonite Church USA. It's also a responsibility that he sees belonging to the entire church. Creating a culture of call where congregations tap young men and women for ministry is important, he says.
He also is excited about working with the denomination's seminaries – Associated Mennonite Biblical Seminary (AMBS) in Elkhart, Ind., and Eastern Mennonite Seminary (EMS) in Harrisonburg, Va. – to ensure that those within Mennonite Church USA who are tapped for ministry have access to the right program for them. Lichti even sees himself as a recruiter for AMBS and EMS if he comes across a student whose needs would be better met by attending one of the seminaries.
"The church needs leaders of all levels of training and formation," Lichti says. "Hesston College offers opportunities for formation that are different than the seminaries. My hope is that we can continue working with other schools and the broader church to ensure we're helping congregations tap the right candidates for ministry and helping them find the right place to get the training they need."
In light of those changing demographics in Mennonite Church USA that show significant growth in urban and non-traditional congregations, Lichti believes it's important for Hesston to consider expanding its method of delivery for the program. For example, it's rarely feasible for people with families in southern California to pick up everything and move to Kansas for two years when they feel called to pastoral ministry. Yet he recognizes the value of bringing people to campus.
"We've got to look for ways to deal with this tension and find creative responses to ensure we're meeting the church's needs of training and developing pastors," Lichti says. "As the church changes, we need to make sure our program is accessible to those who are called to ministry."
What will this mean? Lichti doesn't quite know, yet. Still residing in Goshen, Ind., until he and his wife move to the Hesston area this summer, Lichti has been focused on gaining a deeper understanding of the program and how it functions – both on campus and in the broader church – as well as developing relationships with current Pastoral Ministries students and others on campus by way of regular trips to Kansas.