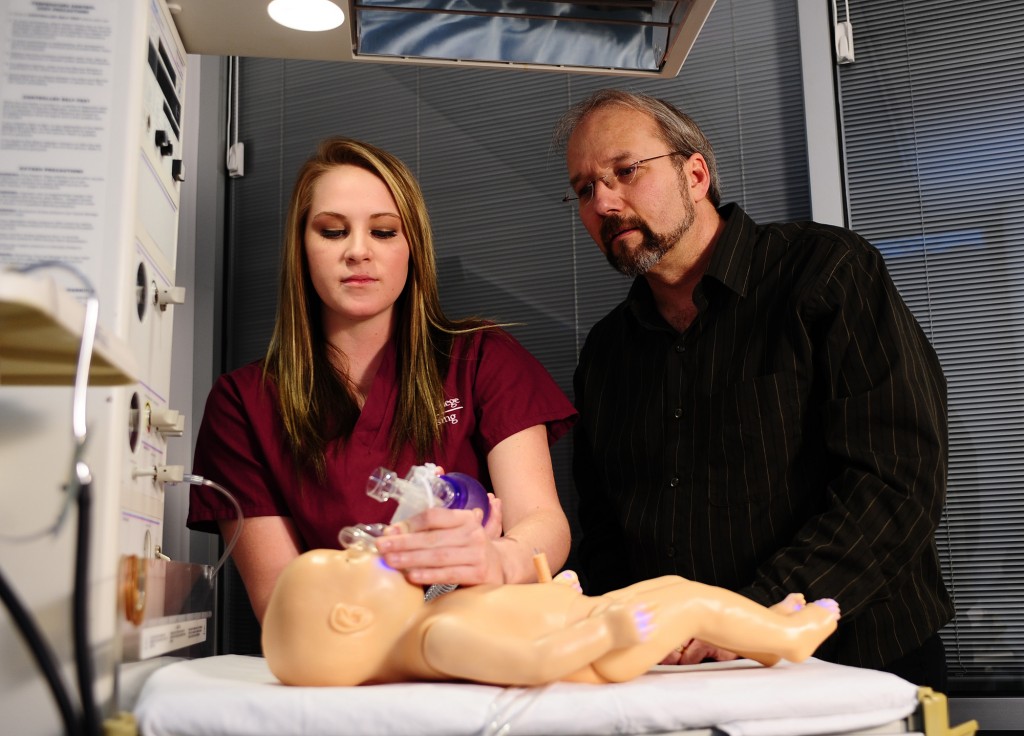 The Hesston College nursing program has earned a trusted reputation in preparing graduates for the Registered Nurse (RN) role. Of our nursing graduates to date, more than 98% have passed the national licensure exam and are now registered nurses. Hesston College graduates are valued employees in a variety of settings and RN roles in Kansas, throughout the United States, and internationally.
Majors
Program information
Curriculum Sequences
Admission policies
Application
Online Hesston College Nursing Application please complete both the full-time application for admission and the nursing application
Nursing Reference Form (PDF)
Unique aspects of the Nursing program
As part of a church-affiliated campus community, students are encouraged to explore their personal values and faith perspective to understand how this can enhance nursing care of clients. A thread of holistic nursing care runs throughout the curriculum, upholding the program's mission to prepare nursing graduates "who view nursing as a service and are equipped to deliver direct, quality client care through nurturing the body, mind and spirit."
Each nursing course examines aspects of faith, ethics and caring as students consider their nursing role and the needs of clients. In the Biblical Literature course required of all students, Bible and Nursing faculty members combine their academic areas to help students integrate concepts from the Biblical narrative with real-life nursing experiences. Their goal is to empower students to bring hope and love to clients along with technical nursing interventions.
History
The Hesston College nursing program enrolled its first class of students in the fall of 1966. Two years later in May of 1968, 18 students became the first Associate Degree graduates of the Hesston College nursing program. Over time, more than 1500 individuals have graduated from the program and launched careers in nursing. These graduates include traditional-aged, dorming students from all over the United States and world, as well as commuting students from the local region who come to Hesston College for a first-time college experience or to retool for a new career.
Accreditation history
Hesston's nursing program is approved by the Kansas State Board of Nursing. In 1970 it was the state's first Associate Degree nursing program to be accredited by the National League for Nursing (NLN). The most recent accreditation site visit occurred in March of 2010, followed by the NLNAC's decision to grant the maximum accreditation period (8 years).
Effective May, 2013, the NLNAC changed its name and is now the Accreditation Commission for Education in Nursing (ACEN). Hesston College Nursing's accreditation continues under ACEN.
Faculty and Staff
Marilyn Unruh Flaming
, academic assistant
Nursing Department news
Hesston College received approval from the Kansas State Board of Nursing (KSBN) March 25, to launch a bachelor of science in nursing program (BSN) starting with the 2015-16 year. The introduction of the program to the existing associate degree program (ADN) will make Hesston the only college or university in Kansas where students may choose […]
Graduates of Hesston College's Class of 2014 were encouraged to take Hesston College values with them as they go everywhere during Commencement exercises May 11. Commencement speakers Joyce Huber, nursing faculty, and Marelby Mosquera, natural science faculty, spoke on "Passport For Your Dream: From Here to Everywhere," highlighting the values of Christian community, diverse cultures, […]
Hesston College will host Homecoming 2013: A View From Everywhere with an emphasis on nursing and holistic health Sept. 26 to 29. All alumni and friends are invited to the weekend celebration. Registration for all weekend activities is $10 per adult until Sept. 2, and $15 per adult starting Sept. 3. The weekend will feature […]
Kansas nurses now can advance their careers at home, thanks to an innovative agreement between 18 Kansas two-year colleges, including Hesston College, and the University of Kansas School of Nursing. The agreement allows nurses with an associates degree in nursing from a participating college to easily transition to receive their bachelor of science in nursing […]
Providing medical care in a building with unpredictable electricity, observing cataract surgeries performed by the light of a flashlight and with local anesthesia, caring for patients while dealing with language barriers, making friends and bridging cultural gaps – that's how a group of Hesston College nursing students spent their spring break. Rural India is not […]
Rachel Neufeld has hiked in the Andes Mountains, lived in a London flat, traveled around Europe, paddled hollowed-out canoes into remote villages in Papua New Guinea and enjoyed the beaches of Australia. She's tried ethnic foods and experienced cultures and histories all around the globe. Hearing about all of her adventures, one might wonder how […]
Sleepless night, my mind is racing. Alarm clock rings at 4:30 a.m. One hour to shower, change into scrubs and report to Newton Medical Center. Today is going to be a big one. First priority is the surgery unit at NMC for a clinical rotation. A quick lunch break at 11 a.m., then back to […]
The nursing program at Hesston College was formally granted re-approval by the Kansas State Board of Nursing (KSBN) at a Dec. 13 and 14 meeting in Topeka. The Board's recommendation came from a two day visit to the Hesston campus in late September. After visiting with nursing faculty and assessing the program's facilities, curriculum and […]
Links
State Board Licensing Information