Aviation – Professional Pilot (B.S.)
Bachelor's Degree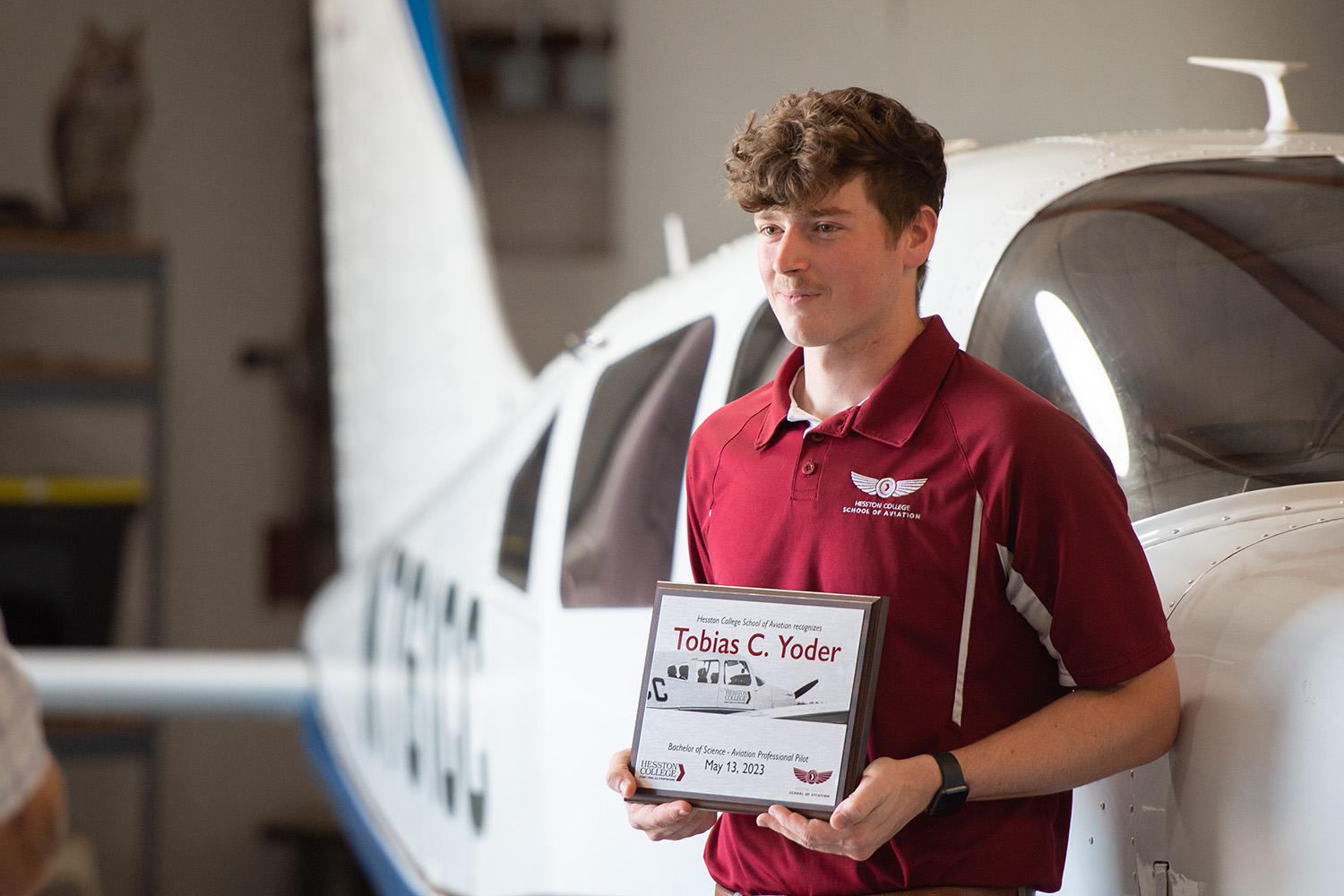 Graduates of this degree program are eligible to apply for a Restricted Airline Transport Pilot (R-ATP) certificate at 1,000 flight hours, pursuant to the provisions of 14 CFR Part 61.160.
Program Requirements
Have a high school diploma and an unweighted GPA of 2.5 or above OR a GED certificate;
Have a minimum 2.5 GPA for all completed higher education work;
Have achieved one of the following: a minimum composite score of 19 on the ACT, a minimum combined critical reading and mathematics score of 990 on the SAT or an ACCUPLACER Next-Gen Score of 255 in Reading and 255 in Writing – only one ACCUPLACER retake allowed;
English language proficiency – All Hesston College Aviation students, in accordance with Title 14 Code of Federal Regulations (CFR) Part 61, must be able to read, speak, write and understand the English language in order to meet the minimum eligibility criteria established by the FAA for airman certification. The FAA's determination of English proficiency directly correlates to the International Civil Aviation Organization's established criteria for Level 4 Operational Proficiency.
Airman Medical Certificate – Each Hesston College Aviation student must obtain a First Class (1st Class) FAA Airman Medical Certificate issued by a FAA-authorized Aviation Medical Examiner (AME). Further information about obtaining an Airman Medical Certificate will be communicated upon acceptance to the Hesston College Aviation program.
Flight Training Prerequisites
Below are required items needed to start flight training at Hesston College
FAA Requirements: The student must be able to read, speak, write and understand the English language, meet the physical standards for a third-class medical certificate and possess a valid student pilot certificate. The student must be 16 years old to solo, and 17 years old to gain certification.
Medical Requirements: You are required to make an appointment with an FAA approved medical doctor to acquire your medical certificate. We ask that you get a first class medical. It is imperative that you have this medical certificate in hand before you fly. We can provide you with names of qualified physicians in your area or you can visit the following informative websites on aviation medicals located at The FAA's Find an Aviation Medical Examiner (AME) They may help answer questions you have.
Transportation Security Administration (TSA) Requirements: We are required to verify proof of U.S. citizenship. We need to see an ORIGINAL birth certificate and a current driver's license or a current passport. TSA requires us to see the original (we will return your original to you after we have verified and copied the documentation).If you are not a U.S. citizen, you will need to register with the TSA online at www.flightschoolcandidates.gov. This registration process takes approximately 1-2 weeks. Flight training will begin ONLY when we have a final approval from the TSA.
Plan of Study
First Year Program Courses
Fall Courses
Intro to Aviation
Intro to Professional Aviation
Private Pilot I
Airspace and Air Traffic
Meteorology
Recommended Courses
First-Year Experience
Speech Communication
Spring Courses
Instrument Flight I
Private Pilot II
Aviation Regulations
Recommended Courses
College Writing I
Lifetime Fitness and Wellness
social science course
Summer Courses
Instrument Flight II
Instrument Rating Principles
Recommended Courses
Second Year Program Courses
Fall Courses
Commercial Pilot Principles
Commercial Flight I
Aircraft Systems
Aerodynamics and Aircraft Performance
Recommended Courses
Spring Courses
Commercial Flight II
Aviation Safety
Human Factors
Recommended Courses
natural science course
responsibility course
mathematics course
Third Year Program Courses
Fall Courses
Flight Instructor Ground School
Flight Instructor – Airplane
Flight Instructor – Instrument
Advanced Aircraft Systems
Recommended Courses
College Writing II
mathematics course
Spring Courses
Multiengine Ground School
Airplane Multiengine Land
Aviation Weather
Advanced Aircraft Performance
Flight Instructor Internship
Recommended Courses
Fourth Year Program Courses
Fall Courses
Mountain Flying
Flight Instructor Internship
Aviation Law
National Airspace System
Flight Instructor Refresher Course
Multiengine Experience
Spring Courses
Flight Instructor – Multiengine
Safety Management
Crew Resource Management
Professional Internship
Catalog 2022-23