Aviation - Professional Pilot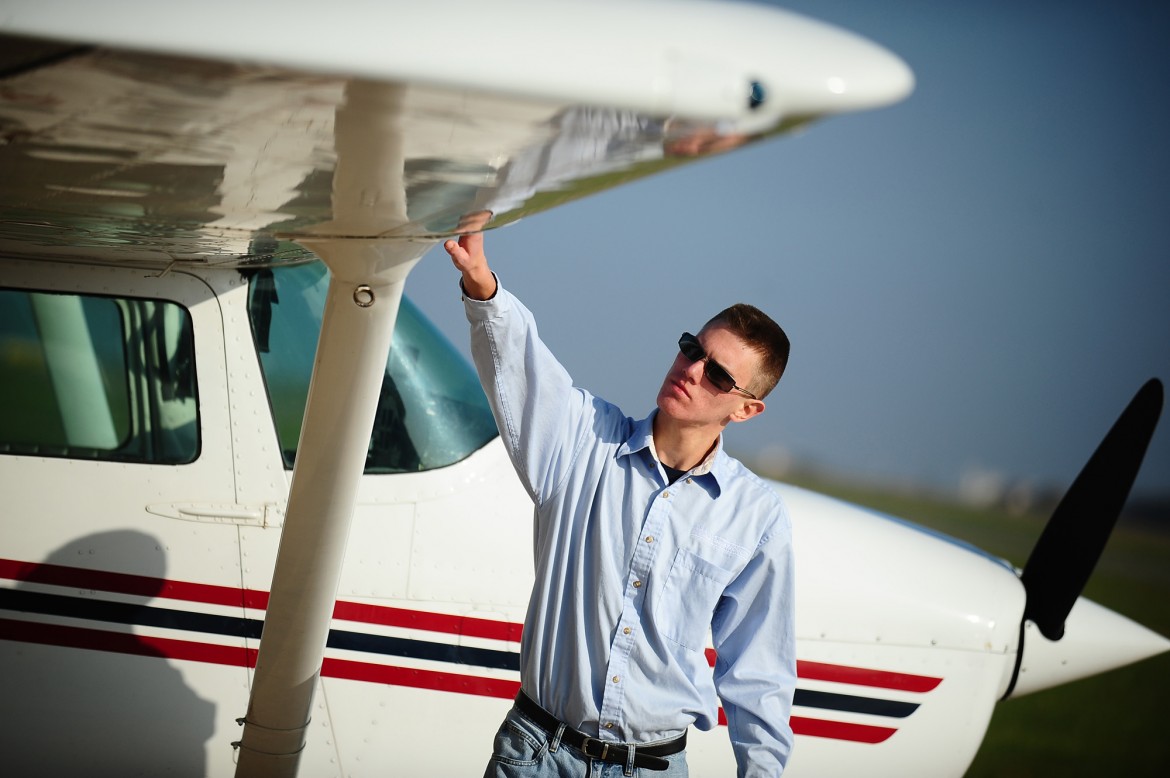 Highlights
During your first week as an aviation student at Hesston College, you'll find yourself in a plane's cockpit. We're serious about training pilots, and we don't waste any time helping students earn one of more of the certificates we offer- private pilot, commercial, and instructor training with instruments and multi-engine ratings. Hesston offers you flight training and all applicable ground schools as preparation for FAA written exams and rides.
We operate the following type of aircraft: Cessna 172, Cessna 172RG and Piper Twin Comanche. Flight training takes place from our facilities at the Newton City/County airport, about 15 minutes from campus. These facilities include classrooms, offices, hangar, and flight simulator.
Hesston is just 30 minutes north of Wichita, the air capital of the world. Unique weather patterns make Kansas one of the best places to learn to fly. Students also travel west for training in mountain conditions.
Opportunities
Hesston's courses are designed to set you soaring into an aviation career. After two years at Hesston, you will have had the opportunity to earn an Associate of applied Arts and Sciences degree in Aviation and completed at least 60 college credit hours. Many of our graduates start out as flight instructors. Mission work, corporate aviation, aircraft charter, and air freight are other possibilities. You can also use your Hesston degree as the foundation of a bachelor's degree in business, aviation management, aeronautical technology or other specialties. Cooperating programs with four-year institutions offer ideal opportunities for Hesston graduates to complete their bachelor's degrees.
The two-year advantage
As a Hesston College aviation student, you can earn your license in two years. After completing our program, when many aviation students at four-year colleges begin flying, you will be ready to work as a flight instructor. By the time you finish your four-year degree, not only will you have the training and the license, but you will also have hours of experience to go with it.
The sky is the limit
More than 700 pilots have trained at Hesston College, and today many of our alumni fly or work for America West, American, Continental, Delta, Northwest, Southwest, TWA, United and US Airways. Others are with national and regional airlines like Allegheny, Air Midwest, American Eagle, Atlantic Southeast, Horizon, Mesaba, SkyWest and World Airways.
Our Hesston College alumni fly for dozens of corporate and charter companies, serve with Mission Aviation Fellowship and other humanitarian organizations, and work as air traffic controllers or in aircraft maintenance and avionics. They are flight instructors at major universities and schools of aviation, do aerial application, work as FAA inspectors and service with Medivac.
Prerequisites
FAA Requirements - The student must be able to read, speak, write, and understand the English language, meet the physical standards for a third-class medical certificate, and possess a valid student pilot certificate. The student must be 16 years old to solo, and 17 years old to gain certification.
Medical Requirements - You are required to make an appointment with an FAA approved medical doctor to acquire your medical certificate. We ask that you get either a second class or first class medical. It is imperative that you have this medical certificate in hand before you fly, as it will double as your student pilot certificate. We can provide you with names of qualified physicians in your area or you can visit the following informative websites on aviation medicals located at www.leftseat.com and The FAA's Find an Aviation Medical Examiner (AME). They may help answer questions you have.
Transportation Security Administration (TSA) Requirements - We are required to verify proof of U.S. citizenship. We need to see an ORIGINAL birth certificate and a current driver's license or a current passport. TSA requires us to see the original (we will return your original to you after we have verified and copied the documentation).
If you are not a US citizen, you will need to register with the TSA online. This registration process takes approximately one to two weeks. Flight training will begin ONLY when we have a final approval from the TSA.
Hesston College Entry Requirements - Participation in the flight program requires a minimum ACT Composite score of 18 or a minimum SAT combined Critical Reading and Mathematics score of 870 (or a minimum ASSET Reading Skills raw score of 20 if neither the ACT nor SAT was taken). Students meeting these requirements usually complete the program in two years (four semesters). Students not meeting this requirement may enroll in the Introduction to Aviation class. If they successfully complete the class and pass the FAA test on the first attempt, they may enroll in the flight program the following semester. These students usually complete the program in two and a half to three years (five to six semesters). Any student beginning a term on academic probation will not be permitted to enroll in any flight courses during that term and may prolong completion dates by one semester. A student may also opt to take the program over two and a half or three years, allowing one or two semesters for elective courses and time for extracurricular activities, employment or other responsibilities.
Additional information
Affiliated Departments
Meet the Faculty