Marissa Hochstetler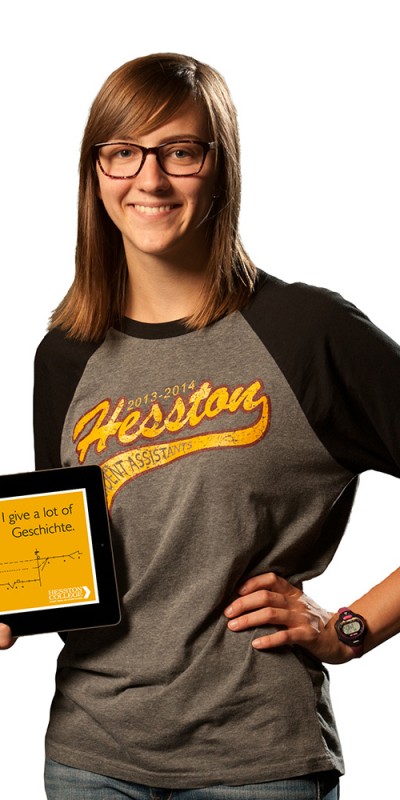 Hometown
Strang, Neb.
Class Year
2014
Clubs & Activities
International Chorale, Resident Assistant, Student Ambassador
What are some real-world experiences you have had at Hesston College?
So many real-world experiences are available at Hesston College. Sometimes you will be gently nudged into them, and sometimes you'll need to search them out. When I started at Hesston, I didn't know what I wanted to major in. I decided the end of my first year and by the end of my second year, I was doing an internship and getting experience in that field.
Why are you glad you started at Hesston College?
Hesston College was a great place for me to evaluate who I am and who I want to be as an individual. Through my Bible and religion classes like Bib Lit, Faith and Discipleship, I was able to learn more about myself and what I believe. I feel like I am leaving Hesston with a much better hold on what I believe.
What is your major and what factors helped you choose it?
I am working towards a communication major with a minor in graphic design. I came to Hesston as a deciding student but through classes like career development and desktop publishing and talking with my parents, I decided on communication and graphic design because of how well those areas fit my interests and skills.
What opportunities have you had at Hesston College to practice skills you will use as you further study your major and get in to a professional career?
The most rewarding and beneficial opportunity I had at Hesston was to work in the Marketing and Communications office as a graphic design intern. Through my internship, I was able to work side-by-side with the college's graphic designer to work on projects and produce pieces that I got to see utilized in departments all over campus and beyond campus as well.
What is the best part of your Hesston Experience?
The best part of my Hesston Experience has been the friendships I have made, both with my peers, instructors and other faculty and staff. I am excited to see how those relationships will continue to develop in the future.
How have you been challenged spiritually or experienced spiritual growth at Hesston College?
Coming to Hesston was the first time I was away from home and from my parents for a long amount of time. My time at Hesston was a time where I could reevaluate the beliefs of my parents, which I had always claimed as my own, in order to decide what I wanted to stand for as. Hesston was a safe place where I could search and find guidance in this area.
How have your college experiences and classes transformed your worldview?
Coming from a very small town, I have been exposed to a whole new world of people at Hesston. Through this experience, I have been able to meet people of different nationalities and who come from a completely different background than me. I've learned time and time again that stereotypes do not do people justice and that a lot can be learned from asking questions about a person's culture.
How have you been supported and nurtured by faculty and staff?
Coming to Hesston as a deciding student and not knowing where I wanted to go after Hesston, I had some big decisions to make while I was here. In making those decisions, I was able to talk to my instructors and other staff members about my decisions. I appreciated the way the faculty and staff showed that they care about me and my journey beyond Hesston College.
Describe the faculty at Hesston College.
The faculty at Hesston are extremely caring. It sounds like a clich´, but it's true.
What are your plans for after Hesston College?
I will be attending Goshen College in Indiana.