Kymee Noll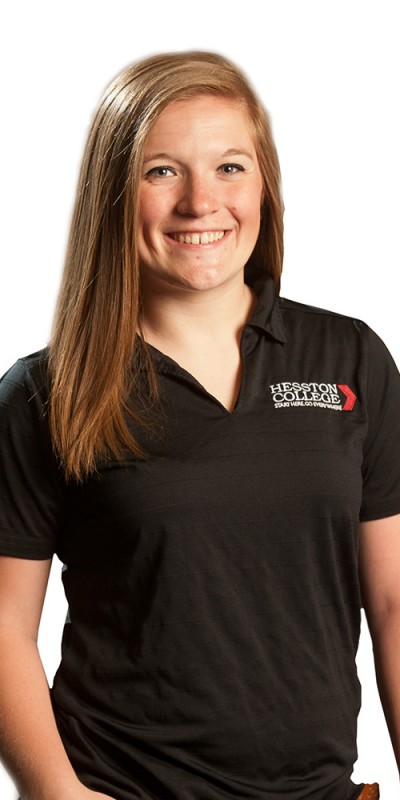 Hometown
Nortonville, Kan.
Class Year
2015
Major
Clubs & Activities
Volleyball, Resident Assistant, Student Ambassador
How did you choose Hesston College?
I first heard about Hesston at a college fair, and Coach Jessica Cleveland contacted me to take a visit. In the middle of my visit I knew that Hesston was the place for me because everyone was so friendly and welcoming. When I took my other college visits I didn't get the feeling that I did at Hesston.
Why are you glad you started at Hesston College?
Hesston College is a smaller campus, which was a good transition from my small town and small school.
What is your major and what factors helped you choose it?
I am a math major because I aspire to be a sports statistician. I love the sports world and atmosphere and I also enjoy doing stats.
How has Hesston College helped prepare you for your future academic and career pursuits?
Hesston offers many leadership opportunities. For example, as a freshman, I have three on-campus jobs: assistant to an admissions counselor, student ambassador and I take stats for the men's and women's basketball teams. It's very important that I get hands on experience for the career path I want to pursue, and this is great experience that will look good on my resume.
What adjustments did you have to make transitioning to college life?
At first, I had a hard time adjusting to college life because I had a closed mind and thought I had all that I wanted back home. Once I realized there were other students on campus that were having difficulty adjusting as well, it made it easier because I knew I wasn't alone. Hesston does a great job at providing activities to encourage the students to get to know one another. Hesston did a great job of making me feel at home.
What advice would you give to a high school student considering Hesston College?
Come on an overnight visit so you can really experience the Hesston College atmosphere and be able to make a better college decision.
What was your experience working with Financial Aid and making Hesston College affordable for you?
Hesston has helped me find scholarships in every nook and cranny possible. They've helped me find everything necessary to make sure it's affordable. The staff at Hesston are so on top of everything and just want to make sure you're doing OK. They feel like moms because they want to be so helpful and loving to make sure your experience is a great one.
How have you experienced community at Hesston College?
Community is a core mission of Hesston College and I've experienced it in many ways. The community is welcome to come to our chapels, eat in the dining hall, play on the tennis court and much more, so you see community members all around campus. Also, each mod has mod parents, this is a couple in the community that students have the opportunity to go to and enjoy meals at and celebrate birthdays with. The community feel is amazing and very welcoming.
What is it like attending college with students from all across the country and world and from a variety of different backgrounds?
There are many international students on campus as well as students from all across the nation that come from very different places. Some of my good friends on campus are from Ethiopia. I'm glad that Hesston has given me opportunities to meet others.
Describe the faculty at Hesston College.
The faculty at Hesston are some of the most caring people I have ever met. There is a student-to-teacher ratio of about 9:1. You get great one-on-one time, and these teachers really care about your success in and outside of the classroom – you aren't just a number like at bigger universities. For example, my advisor, as well as many other instructors, attend sporting events, musical productions and much more to support their students.
Tell us about the fan support for student athletes.
Your friends come to watch home games, and you can hear them cheering for you. It's not just the students, though, it's the faculty, staff and local community people, too. It's amazing for such a small college to provide that kind of fan support to its athletes.