Hannah Weaver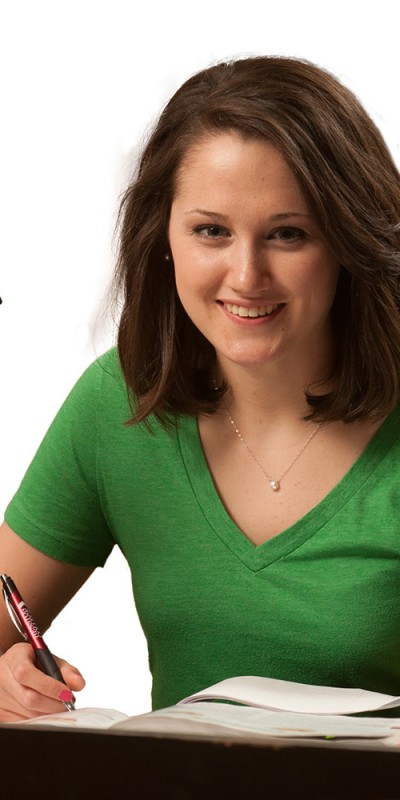 Hometown
Inola, Okla.
Class Year
2014
Major
Clubs & Activities
Resident Assistant, Cross Country, International Chorale
How did you choose Hesston College?
Both my parents and my older sister went to Hesston. I knew there was something special about Hesston, but I was still looking around when I came to visit my senior year of high school. I sat in on General Chemistry class, and I remember the first thing the instructor did on entering the room was ask, "Are there any questions or problems?" I was sold. This was the kind of college I wanted.
Why are you glad you started at Hesston College?
I have gained not only knowledge, but experience and wisdom. I've made friends, but also established relationships. I've been poured into as a student so that I may give to others – this is what I consider my Hesston Experience.
What is your major and what factors helped you choose it?
I chose biology (pre-medicine) as my major in order to become a physician assistant. I am so excited about my future career! I enjoy caring for people but also love being able to explain what is happening to people's bodies and why.
What activities and leadership roles have you been involved with at Hesston College?
In addition to academics, cross country has been a large part of my Hesston Experience. I love the closeness of our team along with our annual trip to Colorado over fall break. I've learned so many things from pushing myself physically and leading a team as a captain. Other activities such as choir, being a resident assistant and simply spending time with friends have been equally rewarding.
How is college different than what you expected?
My academic experience at Hesston has been surprising. I took college classes my senior year of high school at a local university, but when I got to Hesston I quickly learned that I would have to take studying to a whole new level. The most surprising thing, however, was that I began to love science. At the beginning, I thought I would simply endure all the grueling science classes in order to get my degree, but the more I've learned the more I love it! My instructors are responsible for this. Their curiosity for the natural world is infectious, and if there's anything that will help me to succeed in my education and future career, it's loving what I do.
How have your instructors influenced you?
Nearly all my instructors and classes have been fantastic! I enjoy them all for different reasons, but each one makes me think critically and work harder.
How have you experienced community at Hesston College?
Hesston is unique. It's both challenging and uplifting, and the sense of community cannot easily be described. If I had chosen a different college, I would not have had the opportunity to be involved in so many interests outside of my major. I have learned more about life and working with people from being a resident assistant, taking Bible classes, working in the Admissions office and running cross country. This has made my Hesston Experience very holistic. When I have a career someday, my life will not be completely about my career. Hesston prepared me not only for a career but for life as a whole.
What are your plans for after Hesston College?
I'm transferring to Eastern Mennonite University (Harrisonburg, Va.) where I will continue pursuing my bachelor's degree in biology. I then plan on attending a physician assistant school where I will receive my license to practice medicine alongside a regular physician, either in a family practice setting or possibly oncology. Someday I would love to work overseas for at least one year – the possibilities are exciting!