Christina Hershey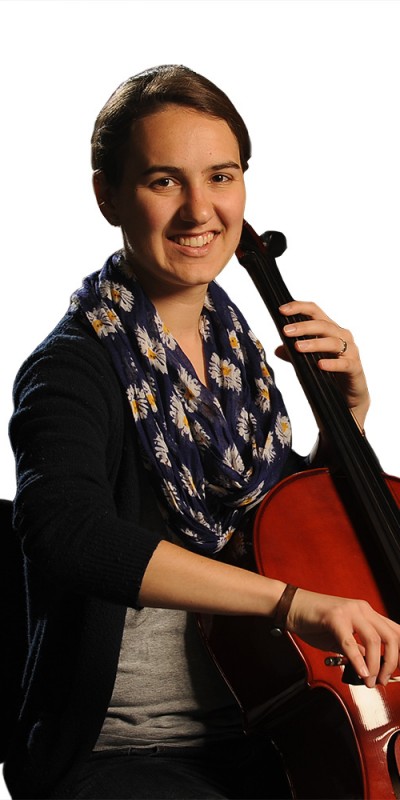 Hometown
Mechanicsburg, Pa.
Class Year
2015
Major
Clubs & Activities
Chamber Orchestra, Resident Assistant
How did you choose Hesston College?
My parents came here so I always heard about it growing up and always thought I would want to go far away from home to Kansas for college. As I got older and it actually came time to look at colleges, I was on campus many times since my sister also came here. The small community atmosphere and the chance to explore different majors drew me in.
Why are you glad you started at Hesston College?
I was stuck between two majors when I started at Hesston: social work and Bible and ministry. At Hesston, I had the chance to take classes in both majors and explore what each would be like. During my second semester, I could officially say I was a Bible major! I also love the Hesston College community. Everyone is very supportive and respectful of each other, and we embrace the diversity on our campus.
What opportunities have you had at Hesston College to practice skills you will use as you further study your major and get in to a professional career?
At Hesston, there are opportunities to explore many different skills in and out of the classroom. In the Biblical Literature class we study the Bible as a whole story and by the end of the class can tell the whole biblical narrative from creation to our own lives. I also had the opportunity as a freshman to be a student ambassador and to represent the school in both a professional and personal role.
How is college different than what you expected?
There was not a lot that was different than what I expected. One challenge, however, was balancing homework and social times. When living with your friends, sometimes it is difficult to sit down and get homework done.
How have your instructors influenced you?
The professors here are really invested in our futures and genuinely care about us. They have helped me discover a path for my future that I love. They have pushed me to think beyond normal thinking, to challenge commonly accepted ideas and to act in the world.
What has been your experience with traveling a long distance from home for college?
Hesston is so welcoming and inviting to everyone on campus and always offers activities on weekends that makes the transition away from home very easy. Sometimes it is hard to be so far away from home, but most of the time I love staying on campus and learning to know friends better and making new friends both through scheduled activities and just hanging out around campus.
How have you experienced community at Hesston College?
Community is everywhere at Hesston College. The way the dorms are set up into mods creates community. Being a part of groups on campus creates community. For example, I was part of several music groups on campus and we bonded through practices, concerts and the occasional overnight trip.
What is it like attending college with students from all across the country and world and from a variety of different backgrounds
I love talking to people from different backgrounds and hearing stories from their unique experiences. It is very interesting to see people from all different backgrounds and experiences coming together and becoming friends, working together on teams or participating in classes together.
Describe the faculty at Hesston College.
The faculty truly care about the mission of the college and the students. They all work their hardest to prepare students for their future in whatever field of study that is.