Coaches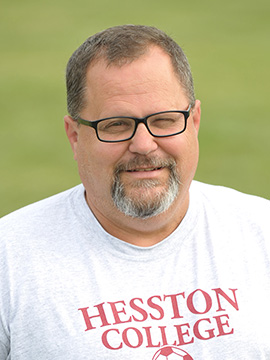 Bryan Kehr (ninth Season)
Phone: 620-327-8193
Email: bryank@hesston.edu
2018 will be the ninth for coach Bryan Kehr. Coach Kehr has helped bring a winning attitude to the Hesston program, with the team recording a 36-22 record over the last three seasons. In addition to coaching women's soccer, Kehr teaches in the Physical Education department (Intro. to Sports Management, Personal Training, Wellness, Canoe Camping, Skiing/Snowboarding, Racquetball and Weight Training). Coach Kehr states, "I hopes Larks players leave the school loving soccer and that they have developed life-long friendships."
Kehr received his bachelor's degree from Goshen (Ind.) College and his master of science in physical education from Emporia (Kan.) State University. He has coaching licenses and certification from both the United States Soccer Federation and United Soccer Coaches Association (formerly known as the National Soccer Coaches Association of America).
Kehr has had successful high school coaching stints in San Antonio, Texas, and Indiana prior to coming to Hesston College. He took a Sidney Lanier High School program that had won an average of two games per year in the three seasons before his arrival and compiled a 77-36-22 record, winning both district and bi-district championships. Kehr then launched the varsity girls' soccer program at Bethany Christian School (Goshen, Ind.) in 1997. After an initial season with only one win, the team went on to garner four sectional titles and one regional title (109-76-16) in 10 seasons. He also served as the Bethany Christian athletic director.
Kehr and his wife, Anita, reside in North Newton. They have three adult children (Hannah Heinzekehr, Maya Kehr Yoder and Elias Kehr) and three grandchildren.
Megan Schrock (seventh season)