Women's Basketball Roster 2017-2018
Photo: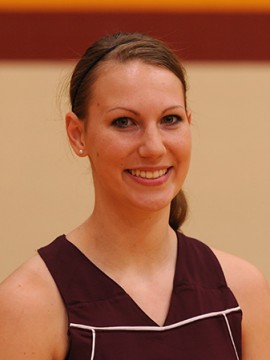 Hometown:
Kansas City, Kan.
Other:
Parent:
Pattie Reynolds
Hometown:
Kansas City, Kan.
High School:
Shawnee Mission Christian School, Coaches Kristin Rhodes and Nathan Becena
Coach Harrison says,
"Sarah joined the Larks as a walk on this year. She has proven herself to be a real team player, always offering support to her other team members. I am happy to have Sarah on the team. Her positive attitude has benefited our team both on and off the court.
How did you choose HC
: My junior year, my basketball coach suggested HC to me. I visited twice, fell in love with the school, and was set on coming.
How will HC help you prepare for your future?
Working in the HC preschool here on campus will prepare me for my future in teaching children. Interacting with all the diverse people on campus will help me form lifelong friendships.
How did you become interested in playing basketball?
My bother and I played together since I was young and I grew to love it. My basketball coach pushed me to reach my potential and encouraged me to try out when I came to HC. Her encouragement and my love for the game are my main motivations.