"Everything is business. If you want to be a pastor, a teacher, a lawyer, a CEO or a chef, everything ultimately is business—whether you like it or not."
David LeVan offers this succinct introduction to students in his courses at the start of each semester. The same David LeVan also admits that he went out of his way to avoid business classes during his own undergraduate days.
"I thought I could be a teacher and never have to worry about numbers," he says. "I was incredibly naïve to think that way because any organization, even a nonprofit, has critical aspects of business in it."
In his first year at Hesston College, the full-time business instructor brings a variety of educational and work experiences to the classroom.
He grew up in Oklahoma City and, for high school, followed his father and grandfather to Culver Academy, a boarding school in Indiana. He majored in English literature at College of the Holy Cross, a Jesuit school in Worcester, Mass. The liberal arts college has 2,700 students.
"Hesston is a smaller campus and creates a closer community, but in terms of class size and faculty interaction, there are similarities," he says. "I think liberal arts education is incredibly important. That's one of the reasons I was attracted to this position."
He earned a master's degree in English at the University of Oklahoma in Norman. LeVan taught for 10 years at Westminster School in Oklahoma City. There, as a civics teacher, he began to understand the importance of business so he returned to the University of Oklahoma for a master's degree in business administration. He later served as Westminster's business operations officer.
When he and his wife, Karen, decided to make a life change, they moved with their two children (now 10 and seven) from Oklahoma to Newton where she grew up. In 2008 she began teaching English at Hesston College; David taught one year at Hesston High School and then accepted his current position at the college.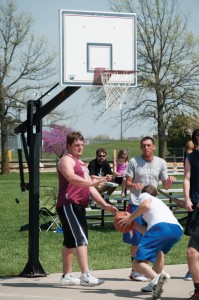 He teaches Managerial Accounting, Exploring Business, Business Communication, Marketing and Sales, Entrepreneurship and two Economics courses. LeVan appreciates the opportunity to shape the courses and to work with the same students in multiple classes over multiple semesters. One of his goals for the Entrepreneurship class is to create student business projects.
"I have really enjoyed working with the students. It's exciting to me to be in an environment where they take a lot of ownership," LeVan says. As an educator, he is committed to helping students think critically and to understand how new learnings fit into real-life scenarios.
In Economics recently "we were talking about perfect competition," LeVan says. "The students were struggling with the concept. Suddenly, one student said, 'Oh, just like the iPhone and all the competition it is now facing.'
"I enjoy those moments in teaching."
At Hesston College David LeVan also enjoys the wonderful facilities, the people committed to this institution, the hospitality of the Mennonite community and "the opportunity to lose in racquetball to Jim Yoder every Tuesday."