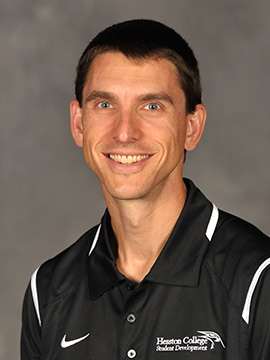 Campus Pastor
Email
todd.lehman@hesston.edu
Affiliated Departments or Programs
Education
B.A., Eastern Mennonite University, Harrisonburg, Va.
M.A., Friends University, Wichita, Kan.
In Addition …
Campus ministry is an exciting place to be. In addition to the relentless energy of college students, working with the Student Development staff ensures never a dull moment. My responsibilities include planning chapel services twice a week; planning for and hosting visiting agencies and church leaders and supervising student ministry assistants who lead Bible studies, Campus Worship, hymn sings and Peace & Service club. Working with these students is one of the highlights of my role. Through their work and the ministry of the Holy Spirit I hope and pray that Hesston College will grow in relationship with the triune God of grace as individuals and as a community throughout this year.
I also have the privilege of serving as assistant cross country coach. As an avid runner I have lots of experience (collegiate track as well as road races from one mile to marathon and everything between).
I graduated from Eastern Mennonite University (Harrisonburg, Va.) in 2001 with a B.A. in culture, religion and mission and from Friends University (Wichita, Kan.) in 2011 with an M.A. in Christian ministry. I grew up in Kidron, Ohio, and have lived in Kansas since 2001. Seven years of youth ministry and one year working in a bookstore helped to prepare me for campus ministry when I started at Hesston College in 2008. I live in Hesston with my wife, Julie, and our daughters. We enjoy entertaining others in our home, collecting eggs from our backyard chickens and playing games (especially Settlers of Catan and euchre).
My door is always open.
Related Links