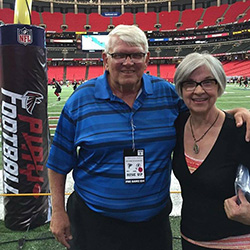 Thursday, September 26, 2019, Hesston Golf Park, 520 Yost Drive
Join Hesston College alumni and friends as well as the wider Hesston community for the Hesston College Homecoming Golf Benefit. This event on Thursday, Sept. 26, at Hesston Golf Course kicks off A Hesston College Homecoming Weekend, Sept. 26 to 29 and is also part of the community-wide Home Sweet Hesston homecoming week.
The 2019 golf event will honor and recognize Floyd Sowers, a member of the Hesston College Class of 1971 and longtime Hesston resident, for his volunteer role in organizing and managing the Homecoming Golf Benefit on behalf of Hesston College from 2013 to 2018. Floyd and his wife, Bonnie (Kauffman) Ac65, '67 Sowers, who served as Hesston Collge's nursing program director and faculty member for 47 years, will be present for the event along with other members of their family. Hope to see you there!
Schedule
12:30 p.m. – Registration

1:30 p.m. – Four-person Scramble

6 p.m. – Prime rib dinner and program
Win drawings for prizes from area businesses
Sponsorships
Sponsorships are welcome! All sponsors will be recognized on the course and in the clubhouse.
Hole in One – $1,000 includes dinner for four
Double Eagle – $500 includes dinner for two
Birdie – $200
Thank you
to our sponsors, including Garber Surveying Service, Hutchinson, Kan., for underwriting this event, allowing 100 percent of proceeds to benefit Hesston College.
Invite three golfers to join you.
Single entries will be placed in foursome.
Questions?
Contact Sheri Esau, 620-327-8147, sheri.esau@hesston.edu.
Can't make it to the golf benefit but still want to honor Floyd?
As organizer of the Golf Benefit, Floyd's passion was student scholarships. If you are unable to join us, please consider a donation of $71 in Floyd's honor (for his 1971 Hesston College class year) to support student scholarships and the overall student experience. Give online