Aviation – Air Traffic Control (A.A.A.S.)
Associate Degree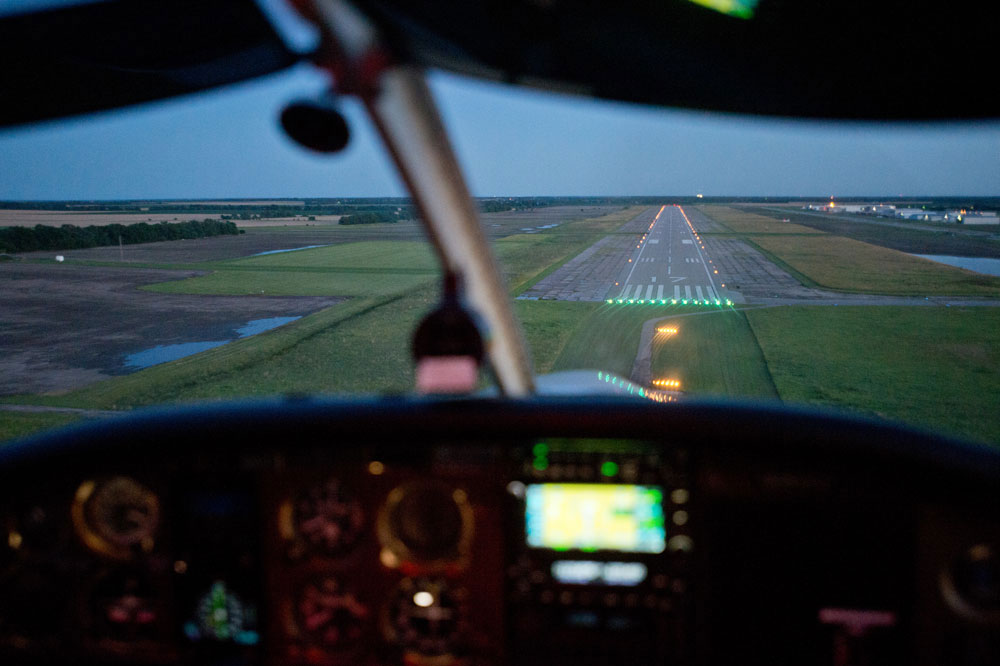 Graduates of this degree program are eligible to apply for a Restricted Airline Transport Pilot (R-ATP) certificate at 1,250 flight hours, pursuant to the provisions of 14 CFR Part 61.160.
The Air Traffic Control program at Hesston is offered as a two year associate degree through the Aviation Department. We bring to the Air Traffic Control training environment a new, refreshed and refined program and curriculum. Hesston College is the only two-year Part 141 (Private Pilot, Instrument Rating, Commercial Pilot airplane single-engine land) flight training school in the state of Kansas to offer flight and Air Traffic Controller training. Students who go through Hesston's ATC training gain the advantage of being trained by Air Traffic Controller experienced faculty. Students in the program will obtain a private pilot's license and an associate of applied arts and sciences degree, which will give them a distinct advantage in passing the initial qualification training at the Oklahoma City FAA training facility. Note – the Air Traffic Control program is only available to U.S. citizens.
Why choose Hesston College for your Air Traffic Controller Training?
Professional longevity of our staff – Our flight and ground instructors have over 30 years of experience.
We have Air Traffic Controller experienced faculty on staff. Our training is structured and intentional and we are required to maintain at least an 80 percent pass-fail ratio.
The FAA has approved the curriculum for our Private Pilot, Instrument Rating, Commercial Pilot airplane single engine land courses (through FAA regulation Part 141).
Our geographical location is key. Located in south central Kansas, 35 miles north of Wichita, we are within driving distance of the KC Center, the Wichita Tower and local radar facilities.
What other benefits will you receive?
The value of a Hesston College education, along with your Aviation career training will serve you individually and professionally for a life time. Your investments will offer you the full benefit of academic achievement, and life long friendships. Our faculty and staff are very accessible and take personal ownership in each student's success. Our faculty believes in and uses positive affirmation in their training structure. You will not feel demeaned or inadequate. You will experience community at Hesston College Aviation. We consider everyone in the aviation program part of our flight team. Our faculty and staff make getting to know you personally their priority.
Prerequisites for Air Traffic Control
Have a high school diploma and an unweighted GPA of 2.5 or above OR a GED certificate;
Have a minimum 2.5 GPA for all completed higher education work;
Have achieved one of the following: a minimum composite score of 19 on the ACT, a minimum combined critical reading and mathematics score of 990 on the SAT or an ACCUPLACER Next-Gen Score of 255 in Reading and 255 in Writing – only one ACCUPLACER retake allowed;
Meet the FAA's English language requirements; and
Obtain a First Class (1st Class) FAA Airman Medical Certificate issued by a FAA-authorized Aviation Medical Examiner.
U.S. citizenship
Plan of Study
Air Traffic Control Track Required Program Courses: 21 hours (grade of C or better required)
First Year Program Courses
Fall Courses
Intro to Aviation
Private Pilot I
Meteorology
Airspace and Air Traffic Control
Recommended Courses
College Writing I
First-Year Seminar
Spring Courses
Private Pilot II
Instrument Rating Principles
Aviation Regulations
Recommended Courses
Biblical Literature
Interpersonal Communication or Speech Communication
Lifetime Fitness and Wellness
Second Year Program Courses
Fall Courses
Recommended Courses
responsibility course
humanities course
mathematics course
elective
Spring Courses
Aviation Safety
Human Factors
Recommended Courses
social science course
natural science course
elective

Catalog 2020-21