Do you have your heart set on having a big state school experience, but you're a bit concerned about class sizes or finding a place to belong? Consider starting at Hesston College and then transferring to a state school. Watch the video below to hear about how many of our students Start Here so they can Go State!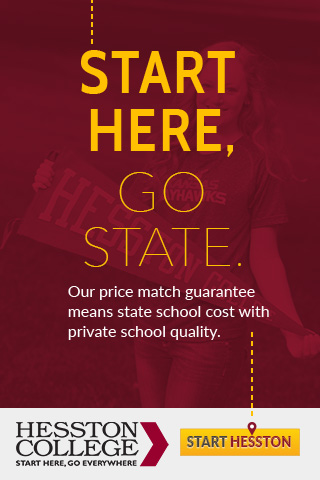 Are you planning to attend a state school? Now that it's your senior year are you getting nervous about that decision – the large classes, finding a social group or liking your roommate? Your decision to "Go State" is not a bad one – perhaps it's just not the right time.
Consider a Hesston College start before you go state.
For Kansas students with a 3.0 or higher high school GPA, your out-of-pocket costs to START HERE will be less than the tuition/room and board sticker prices at the University of Kansas, Kansas State University or Wichita State University, which is a minimum of $22,820 per year.
Hesston has one of the highest student satisfaction ratings in the U.S., and 97% of our alumni say they would choose to START HERE again.
The four-year graduation rate for students who attend state schools is 35% compared to 59% at private colleges.
Athletic, music and theatre scholarships are still available!
Your roommate will be hand selected to match your unique interests, habits and personality.
Your adviser will walk with you every step of the way to help you discover your purpose and ensure you are set up to have the most seamless transfer experience possible. We work with academic departments and the registrar at your selected state school to make sure the courses you take here transfer within the school's requirements.
START HERE, GO STATE! Have the best of both worlds – start in a small, caring environment so you can hit the ground running at a state school your junior year. To learn more, schedule a visit or talk with your admissions counselor.