A Student's Quick Guide to Moodle
(See your faculty for what you need to do in each class)
How to Log in to Moodle
1. Go to http://moodlehc.hesston.edu/ or find it in the Student navigation bar, on the left side of the main myHesston web page
2. Click the "Login" link in the top bar, to the right of the Hesston College logo.
3. Your username and password are the same as your network login and for your "My Hesston" login.
4. You are now logged in! You should see a list of your courses in the "My courses" box in the center of the page.  This box will not show up if you are not enrolled in any courses.   Also, at times faculty "hide" classes until they are ready for students to enter the class.  So if you don't see a class you are in, ask that faculty person.  And not all faculty use Moodle.
If you get a log in error, please double-check your password and log in name with your email. If they work in email but not in Moodle, or don't work in email either, contact Helpdesk     (helpdesk@hesston.edu) .
How to check your chapel attendance
On the right side of the Moodle homepage , you will see a link for "Class Attendance"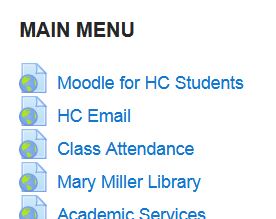 Click on that, and log in with your standard HC user name and password
On the list of classes, click on the "View attendance" button, for the correct chapel "class",  for example,     "Chapel Attendance Fall 2019"

How to Find your Calendar
If your classes are using Moodle and have put up assignments or other events you can see them on the calendar on your main page.  You can also add your own events to that calendar.
Email from inside Moodle or the Messaging Function
In Moodle, many faculty will have added a QuickMail block which is a basic email program to allow you to email your classmates or any of the faculty.   You can also send an email message with Moodle's  the "Messaging" option from participants list.
To see a short video on how to do that, click here.
Forums
If your instructor has put a forum in your course, the link on the main page will look like this:
Forum name goes here
To post a new thread in a forum, click the link, then click the "Add a new discussion topic" button at the top of the list of threads. Give the thread a title in the "Subject" heading, and type your post in the "Message" section. When you are done, check your post for errors and click the "Post to forum" button at the bottom. Be sure to change the Subscription setting to how you want it—if you want to receive emails of every post to the forum, set it to "Send me email copies of posts to this forum." If not, set it to "I don't want email copies of posts to this forum." Some teachers may have set their forums to force you to be subscribed or to not allow you to be subscribed, in which cases this option will not appear. After you've posted, you will have 30 minutes to edit your post.
To reply to a thread, click on the name of the thread in the forum, and click the "Reply" link at the bottom right of the post you want to reply to. The fields are the same as they are for making a new thread.
You can change whether you're subscribed to a given forum at any time by clicking on the name of the forum, then clicking the "Subscribe/Unsubscribe me from this forum" link in the top right of the window, under the Hesston  logo bar.
Some teachers will use groups. If you want to see the forum posts for a particular group, select the group name from the drop-down menu that will appear on the forum's page. Depending on how the teacher has set it, you may be able to see only posts made by members of your own group.
On your profile settings page mentioned above, you can also change the forum tracking option to show all new posts.
If you want to know anything more about Moodle, try looking it up on http://www.moodle.org/. Give suggestions to your faculty on new ways they could use it to improve the teaching/learning process.