Expanded study, enhanced experience
Hesston College's Honors Degree Program is designed for students who are high-achieving and may enroll with advanced standing because of credit hours already completed. With an emphasis on cultural exchange and intercultural skills, knowledge and experience, the program allows students to add more breadth to their studies and to develop skills that are especially sought after by current employers. It includes an enriched Source Course curriculum (Hesston College's general education program) with meaningful opportunities for advanced studies, transcultural experiences and integrative learning.
Honors degree admission requirements
To apply, complete the following steps by August 1.
Apply for Hesston College admission.
Submit high school transcripts – preferred minimum GPA of 3.5. Minimum GPA of 3.25 may be considered.
Standardized test scores are not required for consideration for admission to the honors program. However, international students wishing to apply must submit TOEFL scores – preferred TOEFL score of 70 (with cut scores of at least 13 across all categories), minimum score of 61 (with cut scores of 13) may be considered.
Two formal letters of recommendation (on appropriate letterhead if applicable).
An application essay of 500 to 1,000 words utilizing one of the following prompts:

Describe a setting in which you have collaborated or interacted with people whose experiences and/or beliefs differ from yours. Address your initial response and how you were or were not changed by this experience, specifically how this experience has helped you develop as a person.
Describe a circumstance, obstacle or conflict in your life and the skills and resources you used to resolve it. Were you changed by this experience? If so, how? How will you apply the lessons you learned to your own engagement with Hesston College and the Honors Program?

A short personal interview either in-person or online

15 to 20 minutes, in-person or online depending on student preference/availability
Program benefits
Associate degree awarded with honors
Expand your horizons through interdisciplinary and transcultural experiences
Enroll in 18 credit hours each semester at no additional charge
Special meal and program-wide seminar with Hesston College President twice per semester
Honors degree requirements for graduation: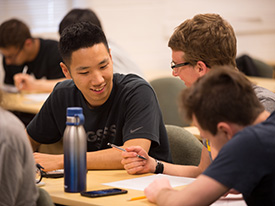 (beyond A.A. or A.S. degree requirements)
70 credit hours earned (10 additional credit hours)
3.25 Hesston College GPA
Completion of Advanced Critical Research and Argument
Completion of an additional elective course from an unexplored area not previously applied to fulfill a Knowledge Source Course requirement (3-4 credit hours)

Students will select one elective course in addition to the Knowledge Source Courses required for degree completion.

Completion of an experiential learning opportunity (i.e. internship, field experience, cooperative education course or leadership course sequence)(1-4 credit hours)
Completion of a course emphasizing Transcultural Knowledge and Experience selected from one of the following (1-4 credit hours):

Course with focus on Transcultural Knowledge and Experience

BuAd 220 – Management
Educ 210 – Diverse Learners
Engl 212 – World Literature
Engl 217 – Literature of Race, Ethnicity and Gender
Mus 203 – Music Appreciation
Psy 200 – General Psychology
Soc 122 – Religions of the World
Soc 203 – Introduction to Sociology
Soc 207 – Sociology of Families
Soc 215 – Social Diversity

A Transcultural Experience course (1-4 hours)
*No course can fulfill more than one graduation requirement.
For questions about the honors degree program
Contact your admissions counselor at admissions@hesston.edu or the Honors Degree Coordinator at honors@hesston.edu.